150+ people burn to death after oil tanker flips & explodes in Pakistan (GRAPHIC)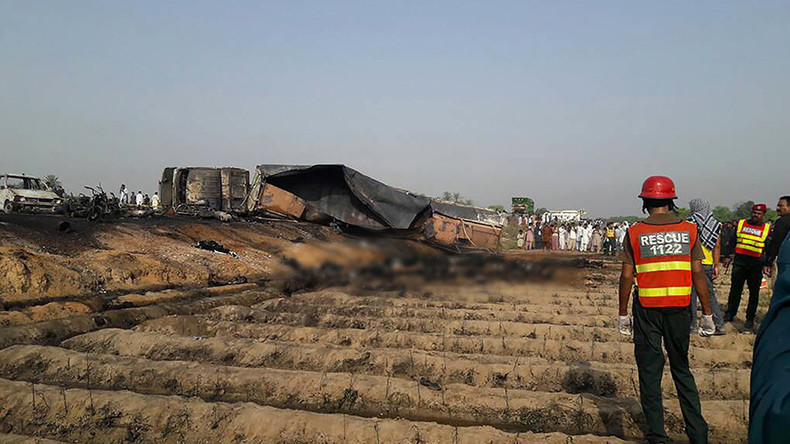 At least 157 people burned to death after an oil tanker overturned, spilling its payload onto a highway in the Pakistani city of Bahawalpur, according to authorities.
Various estimates place the number of people injured between 130 and 200.
The injured have been taken to two local hospitals, Rescue 1122 Director General Dr. Rizwan Naseer told Geo TV Pakistan.
Army helicopters were deployed to take the injured to hospital, according to Major General Asif Ghafoor, the official spokesperson of Pakistan's armed forces.
WARNING: EXTREMELY GRAPHIC VIDEO
After the tanker overturned in the Pul Paka area near the National Highway, people in the vicinity rushed to the vehicle to collect fuel.
Some were smoking, which reportedly led to the ignition of the gasoline and caused the furious inferno, according to reports.
It has been reported that over 70 motorcycles and a number of cars were also been destroyed in the blaze.
Local news outlets reported that the bodies have been burned beyond recognition. DNA tests will be required to identify the deceased.
Medical staff fear more deaths, as some victims suffered burns to 80 percent of their bodies.
Authorities are investigating the cause of the crash. Reports from the scene suggested the truck had been speeding, while Reuters reported it was trying to make a sharp turn when it flipped.