Saudi Arabia donates $66.7mn to stop cholera crisis in Yemen as it continues to bomb & blockade it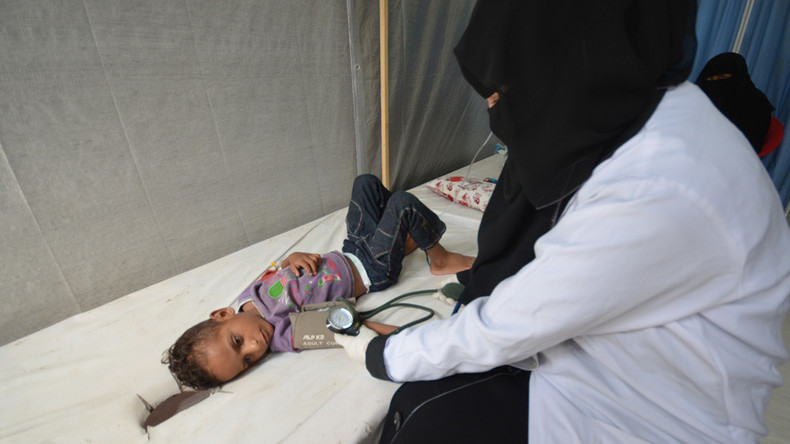 WHO has expressed gratitude to Saudi Arabia for making a "noble" donation to fight a cholera outbreak in Yemen, even though the kingdom itself is contributing to the spread of the illness in the neighboring country by bombing and blockading it.
Saudi Arabian Defense Minister and Crown Prince Mohammed bin Salman, who initiated and is now overseeing his country's intervention in Yemen, has ordered the King Salman Center for Humanitarian Aid and Relief (KSRelief) to contribute $66.7 million to fight cholera in a country that the Gulf kingdom has been bombing since March of 2015.
Cholera, which causes severe dysentery and vomiting, can develop in areas with poor sanitation. It is contracted by coming into contact with contaminated water sources.
Yemen, which has been torn apart by a civil war, continues to bleed from the Saudi-led bombardment. The conflict, now raging into its third year, has decimated the infrastructure and health facilities of the country, which has been described by the UN as the poorest in the Arab region.
Some 791 people have died from the ongoing cholera outbreak in Yemen so far, and over 100,000 are now suffering from the disease, the World Health Organization (WHO) said earlier this month.
On June 8, WHO and UNICEF made an appeal to the international community to come up with $66.7 million to help battle the spread of the disease in Yemen, noting that the country's health system has been "nearly destroyed" by the ongoing violence, with "less than half" of its health facilities fully functional.
"Important infrastructure has been damaged by the violence, cutting 14.5 million people off from regular access to clean water and sanitation," WHO noted, asking for urgent help.
The recently appointed Crown Prince responded to the appeal and authorized the charity of the ruling family to give a donation.
"We have listened to the call from UNICEF and WHO for an immediate donation of $66.7 million to address cholera specifically, and have acted accordingly," said Dr. Abdullah Bin Abdulaziz Al-Rabeeah of KSRelief center, as quoted by Saudi Gazette.
WHO thanked the Crown Prince, saying that the money will save thousands of lives.
"On behalf of the WHO Regional Office I extend deep thanks and appreciation to His Royal Highness, Prince Mohammad bin Salman... for his noble initiative in the humanitarian field to support efforts which aim to alleviate suffering, provide relief through working to contain cholera, and prevent its complications in Yemen," WHO Regional Director for the Eastern Mediterranean Dr. Mahmoud Fikri said.
The number of suspected cholera cases in war-torn Yemen has surpassed 200,000, the World Health Organization (WHO) has said, adding, that an average of 5,000 new cases emerge every day.
UNICEF director Anthony Lake and WHO chief Margaret Chan described it as "the worst cholera outbreak in the world." The two UN agencies said more than 1,300 people have already died from cholera in Yemen, with 25 percent of them being children.
The US noted that collapsing health, water and sanitation systems have deprived some 14.5 million Yemenis of regular access to clean water and sanitation, aiding the spread of the disease.