15 dead in landslide that crushed over 60 houses, buried 120+ people in China (PHOTOS, VIDEO)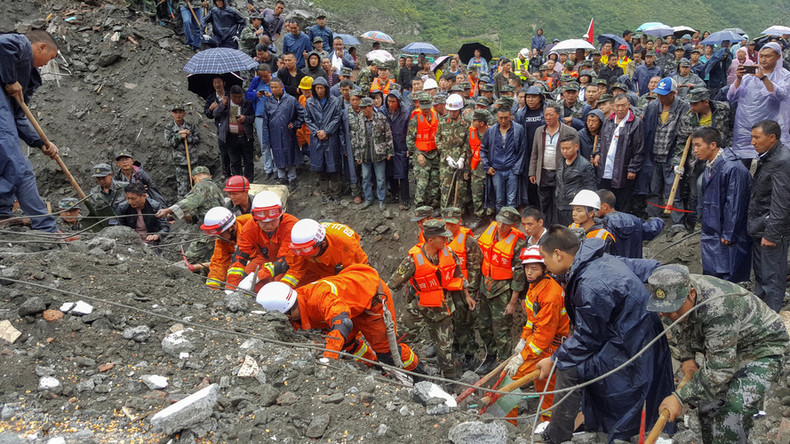 At least 15 people have been confirmed dead as massive search efforts continue in China's Sichuan Province in the wake of a landslide that destroyed dozens of houses and reportedly left more than 120 people buried beneath the rubble.
Torrential rain in Maoxian County triggered a large landslide that destroyed around 62 homes in Xinmo Village, Xinhua reported, citing the provincial government.
At least 141 people are feared to be trapped under the dirt and debris. Rescue teams had retrieved 15 bodies from the wreckage as of 10:00pm local time (14:00 GMT), Xinhua reported, citing the rescue services.
Three survivors were found alive five hours after the landslide struck, Xinhua said, adding that none of them had suffered life-threatening injuries.
The disaster happened in the Tibetan and Qiang Autonomous Prefecture and struck at around 6:00am local time.

"We heard a strange noise at the back of our house, and it was rather loud," Qiao Dashuai, a local resident, told CCTV, as cited by AP.
"Wind was coming into the room so I wanted to close the door. When we came out, water flow swept us away instantly," Qiao said.
Some 400 rescuers, including police, have been dispatched to the site, Tang Limin, a spokesperson for Sichuan's provincial government, told Xinhua. The number of rescuers later grew to 1,000.
Some three million cubic meters of earth and rock slid down the mountain, Wang Yongbo, a local rescue official, told CCTV broadcaster.
"It's the biggest landslide to hit this area since the Wenchuan earthquake," Wang Yongbo said, referring to the powerful 7.9 earthquake that struck the province in May 2008, killing some 90,000 people.
Authorities mobilized manpower and deployed resources, including excavation equipment, to save the trapped villagers.
The landslide has also blocked about a two-kilometer section of a local river course.