Venezuela dares US to 'send in marines' amid crisis, threatens 'crushing response'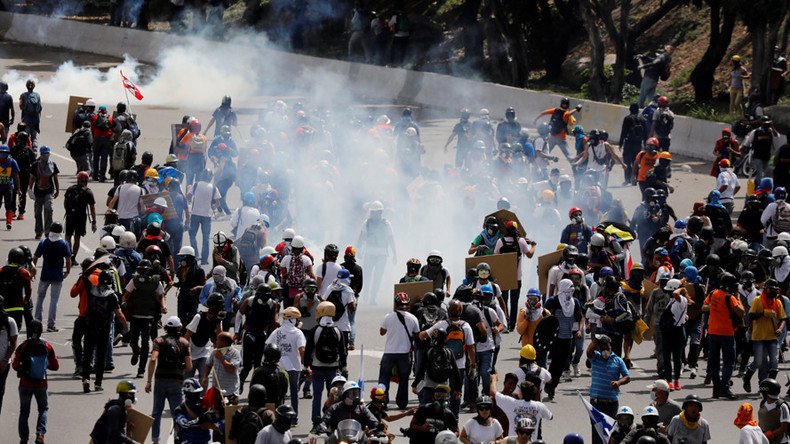 Venezuela has lashed out at the US for trying to forge a plan to address its political crisis, daring Washington to "send in the marines" and threatening to meet troops with a "crushing response."
"The 'contact group' you're proposing is completely useless and unnecessary," Venezuelan Foreign Minister Delcy Rodriguez said during a meeting of the Organization of American States (OAS) in Cancun, Mexico, on Tuesday.
"The only way you could impose it would be to send in your marines - who would meet with a crushing response from Venezuela if they dared make such a misstep," she said, as quoted by AFP.
Rodriguez's remarks were in response to US Deputy Secretary of State John Sullivan, who had tried to garner support for an OAS resolution to send regional mediators to Venezuela to help end the economic and political crisis which has embroiled the country and led to the deaths of 74 people since April.
Sullivan responded to Rodriguez - who referred to the US official as 'el jefe' (the boss) - with three words: "Distractions, distortions and irrelevancies."
The US draft resolution backed by Sullivan failed to pass among the 34 OAS nations, falling shy of approval by just three votes.
Sullivan is now aiming to take the resolution to the OAS General Assembly, which is also meeting in Cancun this week, where it would require a simple majority of 18 votes to pass.
However, Venezuela has warned that it will not abide by any decisions taken by the OAS. Caracas is currently in the process of quitting the organization, a procedure which takes two years.
Rodriguez also hit out at other countries that supported the US proposal on Tuesday, calling Peru a "lapdog of imperialism" and Costa Rica's foreign minister a "political illiterate who knows nothing about Venezuela."
The OAS is divided among friends and foes of Caracas, leading to a failure of its ministers to agree on a joint response to the Venezuelan crisis during this week's gathering.
Anti-government protests in Venezuela have left dozens dead since April, with demonstrators taking to the streets to demand a presidential election to end the tenure of Nicolas Maduro.
Maduro's critics accuse him of becoming a dictator and ruining Venezuela's once successful economy, which boasts the largest oil reserves in the world.
However, Maduro says the unrest is being fueled by external influence, specifically from the United States. He made a bold statement to Washington last month, telling US President Donald Trump to stop meddling in the country's affairs.
READ MORE: 'Get your dirty hands out of Venezuela' – Maduro to Trump
"Enough meddling...go home, Donald Trump. Get out of Venezuela...get your dirty hands out of here," he said during a televised speech.
Maduro's anti-Trump comments came after Washington slapped top Venezuelan judiciary officials with sanctions to "support" the country's citizens.
You can share this story on social media: