Plutonium detected in urine of 5 workers after accident at Japan's nuclear lab
Published time: 20 Jun, 2017 17:27
Edited time: 21 Jun, 2017 09:38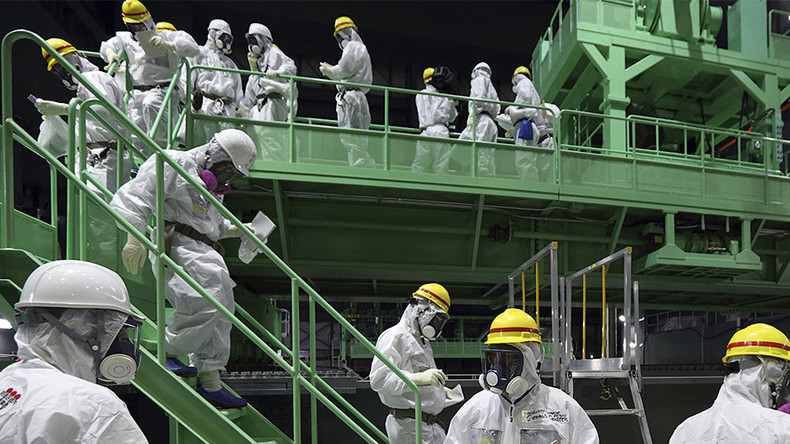 Five staff members of a Japanese nuclear research center have small amounts of radioactive materials – plutonium and americium – in their urine following an accident in the lab earlier this month, according to the hospital where they are being treated.
The five workers of Japan's Oarai Research and Development Center have been confirmed to suffer internal radiation exposure, as the test results, announced Monday by the National Institute of Radiological Sciences (NIRS), revealed. At least one also has americium in the lungs.
The accident occurred on June 6 when a bag covering a metallic cylinder containing plutonium and uranium burst during a check in one of the facility's analysis rooms, causing the staff to inhale radioactive particles.
Initially, one of the people affected was said to have up to 22,000 becquerels of plutonium-239, Jiji Press News Agency cited the Japan Atomic Energy Agency's (JAEA) assessment as saying on the day after the accident.
This is "a situation that cannot be easily brushed aside," Japan's Nuclear Regulation Authority (NRA) commissioner, Nobuhiko Ban, said, as cited by The Asahi Shimbun. "It is no small amount, although it may not be life-threatening," the commissioner added.
A subsequent check by the NIRS, however, detected no toxic substances in the lungs of any of the five workers, noting the initial test could have picked up plutonium left on their bodies after decontamination, according to Japan Today.
Urine testing allows smaller amounts of radioactive elements to be found in the human body, since it takes longer to evaluate its levels, while lung dosimetry can detect between 5,000 and 10,000 becquerels as the smallest amount, according to NIRS, as reported by The Asahi Shimbun.
On Sunday, the Oarai workers were again taken to the hospital for further treatment to speed up excretion, despite not showing any signs of deteriorating health.
Although exposure to plutonium "would not have immediate effect on their health for a few months," such levels are "relatively high for cases occurring in Japan," Makoto Akashi, an executive at the National Institutes for Quantum and Radiological Science and Technology, said.
The JAEA has been criticized by the NRA, which blamed the incident on "workplace complacency."
"The agency as a whole had problems in the prediction of risks," JAEA director Toshio Kodama said on Monday, apologizing for the accident.