Man shouting 'Allahu Akbar' causes terrorism scare on Swiss subway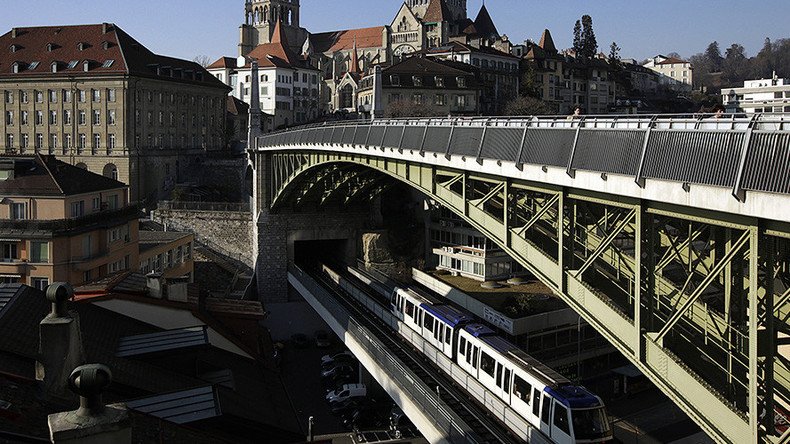 A man shouting "Allahu Akbar" made people flee for their lives during a terrorism scare at a Metro station in Lausanne, Switzerland. Prosecutors say the man was suffering from a paranoid episode and presented no immediate danger to the public.
Commotion and panic erupted at the Bessieres Metro station at around 1:30 pm on Friday as the doors of a train opened and its passengers flooded out, running for the exit when a man began shouting the Arabic phrase "Allahu Akbar," which means 'God is great'.
"We wondered if we were going to hear an explosion behind us," a witness told the newspaper 24 Heures.
Police then arrived on the scene and arrested the suspect, a 30-year-old Swiss resident from Western Sahara, a territory formally under Moroccan control, and charged him with 'threats causing public alarm' under Article 258 of the Penal Code. Under questioning, the man told investigators he was having a paranoid episode and was calling on God to help him.
"This is a person who was afraid his life was in danger. At the height of his crisis, he began to face paranoia. Then he called to God for help. This is what he did last Friday in the subway shouting Allahu Akbar," the prosecutor confirmed to 24 Heures.
After being examined by psychiatrists, the man was not deemed a flight or violence risk and was released from custody pending a court hearing.
Allahu Akbar is used by Muslims, as well as some Arabic-speaking Christians, to express an overwhelming emotion such as joy, horror or amazement, as well as in prayer.
The phrase has also been co-opted by Islamic extremists before they carry out a terrorist attack because, in the words of 9/11 hijacker Mohamed Atta, it causes fear among those, he called non-believers.
You can share this story on social media: