US-led coalition's downing of Syrian plane 'act of aggression' & 'support for terrorists' – Moscow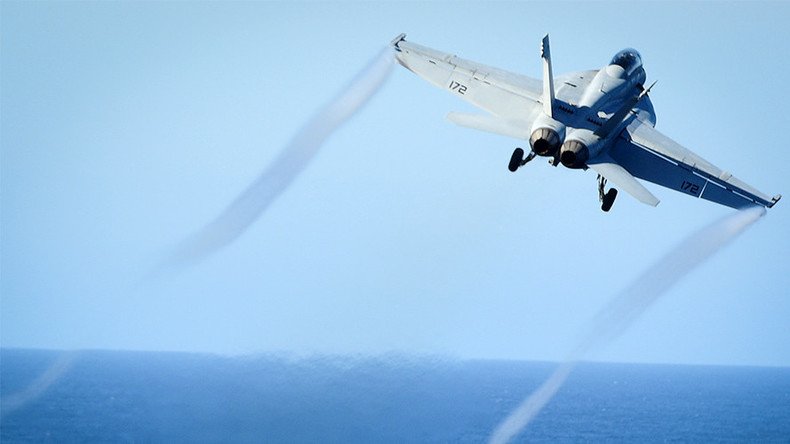 Moscow views the US-led coalition's attack on the Syrian government military jet as an act of aggression and assistance for the terrorists that the US is fighting against, according to Russian Deputy Foreign Minister Sergey Ryabkov.
"What is it then, if not an act of aggression, an act directly in breach of international law," Ryabkov told journalists in Moscow.
"If you want, it's actually help for the terrorists the US is fighting, declaring that they are conducting a counterterrorism policy," the official added.
Ryabkov added that he believed the strike "should be first of all regarded as the continuation of the US agenda of neglecting the norms of international law. Regardless of who has power in Washington, people there are used to the fact that there are circumstances allowing them to arrogantly look down on – and in some situations, to openly ignore – the basics of international relations."
A Syrian SU-22 warplane was shot down by a US F/A-18E Super Hornet on Sunday while it was on a mission in the countryside around Raqqa.
Damascus stated that the plane was carrying out operations against Islamic State (IS, formerly ISIS/ISIL) terrorists when it was downed.
Washington says that the Syrian warplane "dropped bombs near SDF fighters south of Tabqah" and was shot down in accordance with "rules of engagement" of Coalition partnered forces.
READ MORE: Russian military halts Syria sky incident prevention interactions with US as of June 19 – Moscow
Earlier, Russia's Foreign Minister Sergey Lavrov urged US forces in Syria and those of any other country to refrain from unilateral, uncoordinated action.
"We call on the US and all others who have their forces or advisers on the ground in Syria to ensure the coordination of our work," he said.
De-escalation zones are one of the possible options to move forward jointly, he said.
"We call on everyone to avoid unilateral moves, respect Syrian sovereignty and join our common work, which is agreed with the Syrian government," Lavrov said.
He also called on everyone on the ground to "respect Syria's sovereignty and territorial integrity."
In June, the US deployed HIMARS long-range rocket launchers from Jordan to its base in At Tanf in southern Syria. The move may be intended to cut off Syrian government troops from allies in Iraq, since there are no Islamic State militants in the region to target with the weapons, Lavrov said following the deployment.
In April, US President Donald Trump ordered a Tomahawk missile strike on Syria's Shayrat Airbase, claiming this was in response to alleged chemical weapons use by President Bashar Assad's forces, before anyone had the chance to verify this via an investigation.
Last September, a coalition airstrike on Syrian government forces' positions near the eastern city of Deir ez-Zor left more than 60 Syrian soldiers dead.
You can share this story on social media: