'Enough excuses': Madrid protesters urge govt to accept more refugees (PHOTOS, VIDEO)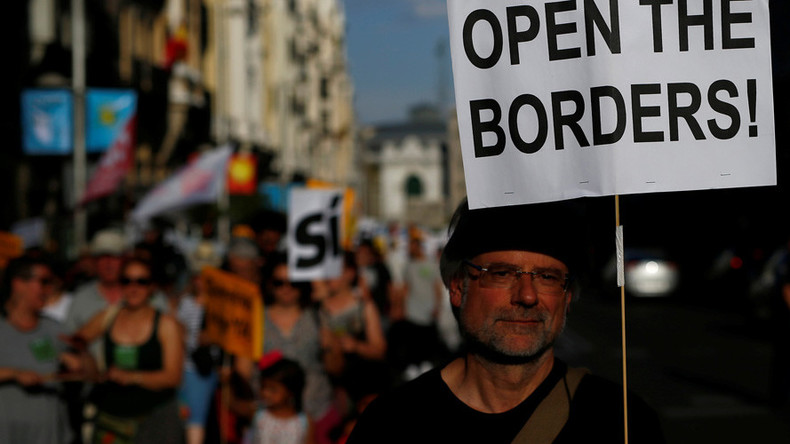 Thousands of protesters spilled out onto the streets of Spain's capital on Saturday to demand that the government comply with its commitment to take in refugees under the EU relocation scheme.
Sweltering temperatures of 40 degrees Celsius didn't stop demonstrators from showing up at the Saturday march. Some 8,000 people of various nationalities gathered under the slogan "Enough excuses, no more barriers," according to one of the event's organizers from the 'Queremos acoger ya' ('We want to welcome [them] now') platform.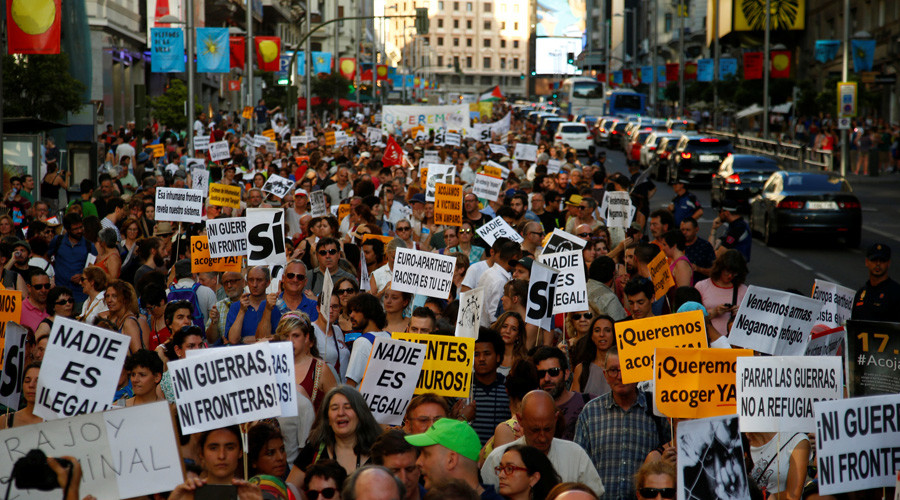 Protesters chanted slogans including "No human being is illegal" and "Where are the human rights?" while walking by Gran Via street in central Madrid. Among the signs and banners were those reading "Asylum is a right, not a plea,""Open the borders," and "No wars, no walls."
Coming three days ahead of World Refugee Day, Saturday's demonstration is the second such massive gathering in Spain since February, when up to half a million activists rallied in Barcelona.
"We want a welcoming country, not a fortress," one of the participants, Maria del Carmen Lostal said, as cited by Madridiario.
"We urge Spain to fulfil its pledge to accept 17,337 people before the deadline set by the EU expires on 26 September," a spokesperson of the 'Queremos acoger ya' platform, Angela Iranzo, told Europe Press.
Slightly more than seven percent, or 1,304 refugees of Spain's total commitment, has been resettled so far, Angela Iranzo said, adding that it would take 23 years to accommodate them all at this pace.
READ MORE: 'Take them in!' Massive Barcelona march urges Madrid to welcome refugees (PHOTOS, VIDEO)
However, the legal obligation of member states "will not cease after September," the European Commission progress report reads.
As of June 9, around 21,000 asylum seekers had been relocated from Italy and Greece, while initial pledges to take in refugees by mid-September of this year amount to some 160,000 people.