Police detain protesters in Berlin as anti-immigrant rally faces off with counter demo (VIDEOS)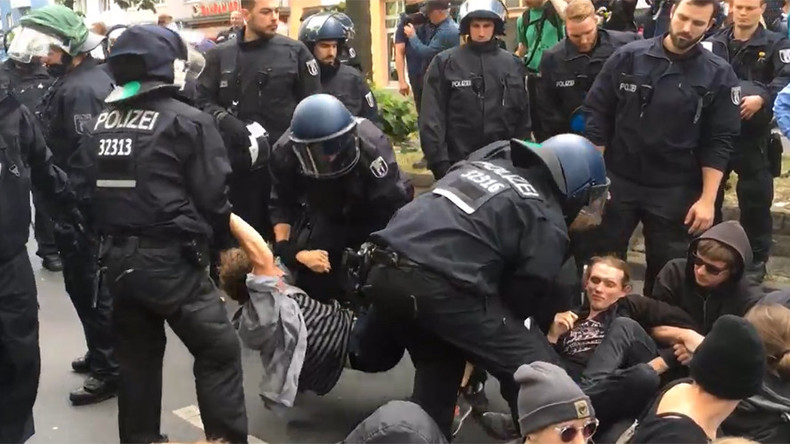 Berlin police used force to disperse a sit in protesting a demonstration by the right-wing, anti-immigration Identitarian movement, demanding protection for the European "identity, culture and lifestyle."
Police said that under 1,000 activists gathered in a quiet part of the German capital on Saturday afternoon for a sanctioned march by the self-proclaimed "anti-jihadist" movement.
They were outnumbered by an estimated 1,400 detractors, who have labeled the Identitarian movement "Nazi hipsters", and assembled to disrupt the march.
While many shouted at, and showed upraised middle fingers to the right-wing demonstrators, several, including celebrity activist Irmela Mensah-Schramm, famous for spraying over Neo-Nazi graffiti on the city streets, blocked the route of the planned march with a sit-in.
Police officers in armored suits removed the counter-protesters, using force to drag them away.
Although it was formed in 2002 in France before transferring to Germany, the Identitarian movement has only recently begun to attract mainstream attention, riding in the wake of Pegida's well-attended anti-Islamization rallies and the high-profile electoral success of Alternative for Germany, which has rejected a formal alliance with the Identitarians.
The group is thought have a core of fewer than 500 members, but has been widely covered due to its publicity stunts, such as putting up a guerrilla banner reading "Secure borders, secure future" on the Brandenburg Gate last year, and using Kickstarter to collect funds.
The Identitarians staunchly deny any links with Nazism, saying they are not looking to glorify any particular race, but to defend the continent's "cultural identity" from the onslaught of multiculturalism.
You can share this story on social media: