Russia tests nuclear-tipped missile interceptor (VIDEO)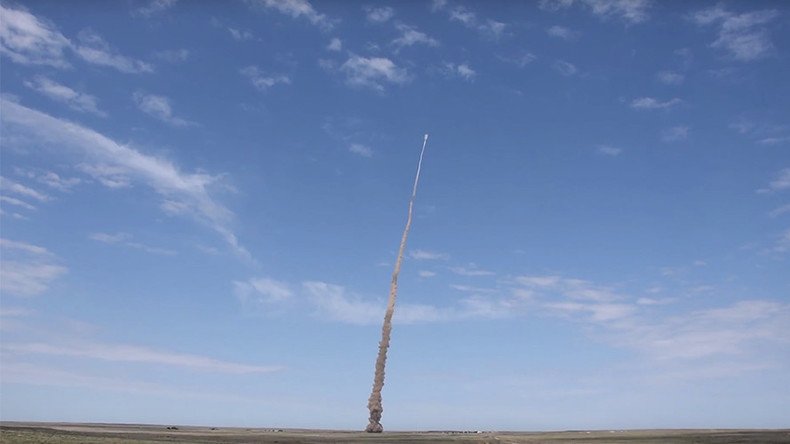 The Russian military has successfully tested a short-range ballistic missile interceptor designed to destroy incoming nuclear warheads with a nuclear explosion in the air. These missiles are used in Moscow's anti-ballistic missile system.
The A-135 ABM system protects Russia's capital and its surroundings from a possible nuclear missile attack. It consists of phased-array radar, a command center, and launchers that release two types of interceptor missiles, the long-range 51T6 and the short-range 53T6.
On Friday, Russia's strategic missile forces and air and missile defense forces jointly tested a 53T6 missile at the Sary Shagan test range in Kazakhstan. Of course, the missile, which has been dubbed Gazelle by NATO, didn't have a nuclear warhead like those in the 68 silos around Moscow.
"During the test, the ABM system interceptor successfully performed its task and hit a provisionary target," Deputy Commander of the Air and Missile Defense Andrey Prikhodko said.
The video of the test was provided by the Russian Defense Ministry.
The Russian military tests interceptor missiles once or twice a year to confirm their combat readiness.
The 10-meter-long rocket reportedly can deliver a 10-kiloton nuclear tip a distance of up to 80 kilometers at a speed of three kilometers per second.
Russia is currently developing a new interceptor missile that is now approaching a phase that requires intensive test launches, according to Russian military officials. Dubbed the Nudol, most information about the long-range projectile is classified.
You can share this story on social media: