Spanish Catholics stage 'prayer protest' after Muslim mass prayer at Christian landmark (VIDEOS)
Catholics in the Spanish city of Granada struck back at what they described as a "provocative" decision to stage a Ramadan fast-breaking in front of a statue of the Virgin Mary, by arranging a mass public prayer at the same spot.
"We are here because we can't allow that to happen. They can't do it in Granada. They can do so in their place, but not in the Jardines del Triunfo that has been ours for so long," a Catholic at the event told RT's Ruptly video agency.
The present-day Jardines del Triunfo started off as 13th century Islamic cemetery during the Muslim occupation of Spain, but is now dominated by a 17th century statue of the Immaculate Conception, located atop a towering pillar.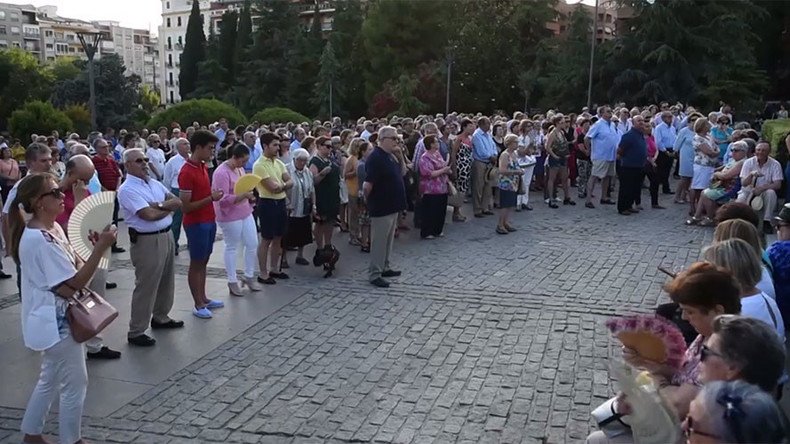 The decision to stage a prayer to break the daily Ramadan fast on June 10 was taken jointly by a Socialist-controlled city hall and an Islamic group, the Euroarab Foundation.
Socialist mayor Francisco Cuenca said that the ceremony prove that Granada was a "city of coexistence and tolerance" and said that "people of all faiths were invited to participate" in a ritual that would serve as "an invitation to another culture." Another Socialist city official insisted that "multiculturalism can never be a threat, it is an added value."
Those who chanted traditional Catholic prayers at the gardens this week, led by a leader with a megaphone, disagreed.
"It was a lack of respect to Catholics. I love everybody: Arabs, Buddhists alike. It was a provocation, and due to the municipality of Granada," said a middle-aged woman.
Those behind the idea of the public Ramadan celebration have rejected the Catholics' objections.
"In my opinion, we should not generalize. It was a little group without the support of the Catholic Church administrators. It shows there is a long way to arrive to the full coexistence," a representative of the organizing committee, who did not wish to reveal her name, told Ruptly.
She also rejected the historical overtones pointed out by the detractors. Originally a Roman, then a Jewish settlement, Granada was home to the longest-surviving Muslim Emirate in Spain, before its conquest in 1492. Until 2003, the city, famous for its Alhambra Palace, did not even have a mosque.
"We don't want to avenge anything with the selection of the site for the prayer. We chose this site because it's a central park in Granada and a very big place to share with all the people who accepted our invitation to join," the organizer told Ruptly.
You can share this story on social media: