Finnish, Danish & Swedish jets scrambled over Russian strategic bombers' routine flight over Baltics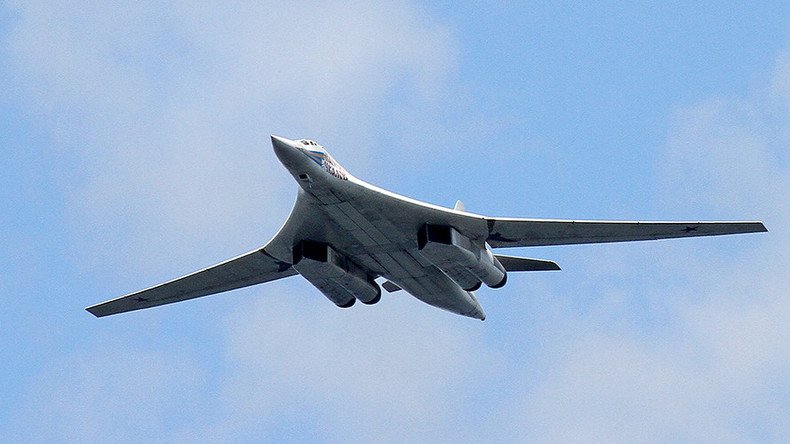 Russian Tu-160 strategic bombers have performed a planned routine flight over the neutral waters of the Baltic Sea, the Russian Defense Ministry confirmed, adding that the air group was intercepted by western Air Forces on several occasions.
"On June 15, Tu-160 strategic missile carrying aircraft of the Russian Air Force performed a planned flight over the neutral waters of the Baltic Sea," the ministry told the Russian media. The bombers were accompanied by Russian Su-27 fighter jets of the Western Ministry Command and the A-50 distant early warning plane.
According to the ministry, the country's long-range air force "regularly performs scheduled flights over the neutral waters of the Atlantic, Arctic, the Black Sea and the Pacific Ocean."
"All flights are conducted in strict accordance with the international rules of the airspace management" and the Russian planes never violate the borders of other states, the ministry said.
At the same time, the ministry drew attention to the fact that the air group was repeatedly intercepted "at certain route stages" by the fighter jets of several western states, including Danish F-16s, Finnish F-18s and Swedish JAS-39s.
Earlier, the Finnish Air Force said in a statement that its war planes were scrambled on June 14 and 15 over the "increased activity of the military aircraft over the Baltic Sea."
"As a territorial surveillance authority of Finland, the Finnish Air Force has ordered its F/A-18 Hornet multi-role fighters on Quick-Reaction Alert (ORA) duty to identify and photograph the Russian military aircraft observed in the international airspace in the vicinity of Finland's airspace," the country's military announced in a statement.
Earlier, similar incidents took place in the Baltics as the Russian Air Force was sent to intercept the US military aircraft that approached Russian borders.
On June 9, a Russian fighter jet intercepted a group of the US warplanes over the Baltic Sea. The group consisted of a Boeing KC-135 Stratotanker military refueling aircraft as well as two B-1 bombers and one B-52. The US aircraft were taking part in the BALTOPS (Baltic Operations) annual training exercise.
On June 6, the Russian Defense Ministry also reported intercepting another B-52 bomber over the Baltic Sea, where it was escorted by a Su-27 fighter away from Russian territory.
The NATO BALTOPS exercises that started on June 6 will continue until June 16 and involve 5,600 troops from air, sea and ground forces across 12 NATO countries, as well as Finland and Sweden.
You can share this story on social media: