Putin talking: Russian president holds annual Q&A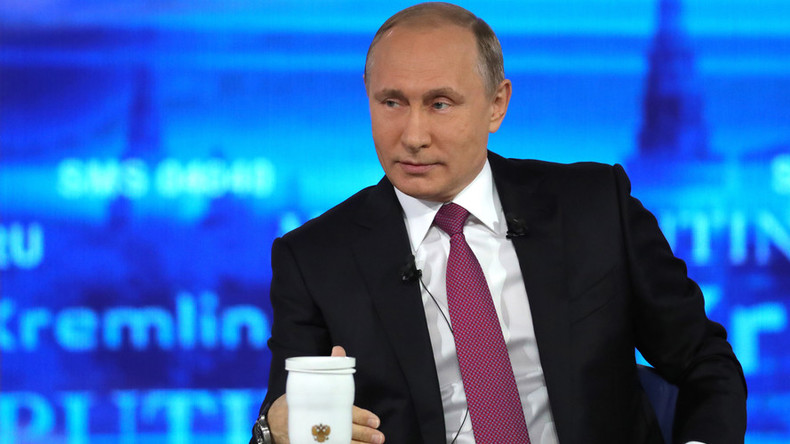 Vladimir Putin is holding the 15th annual Q&A session of his career on Thursday. RT is covering the event as it unfolds.
15 June 2017

13:02 GMT

After almost four hours of answering questions, Putin wrapped up the session, thanking everyone who had asked for his opinion on various issues.

"Don't hold a grudge if I didn't answer all your questions. That is impossible," he said. "But it is important to me to hear your opinion on what is happening in Russia."

12:58 GMT

"Everything will be fine," Putin read from a statement sent to the Q&A. "I confirm this," he said.

12:57 GMT

Putin said he will eventually make his personal preferences for the next president of Russia public, but that the decision was not his to take. The Russian people will elect his successor, he said.

12:56 GMT

Putin promised that the president of Russia will soon travel in a car produced in Russia, adding that this is actually an important issue. He said a new line of cars for Russian officials may be launched next year.

12:54 GMT

Putin answers questions he selected himself, picking from the screen.

12:53 GMT

The biggest fish Putin ever caught weighed 20kg, he said, joking that although people said it didn't look big enough to be that heavy, perhaps someone put something in it to tip the scales that way.

12:52 GMT

Asked who of the world leaders has the strongest handshake, Putin said handshakes don't determine strength of a leader. His or her dedication to the country does.

12:50 GMT

The president assured that he is quite familiar with life of everyday people in Russia, being from one such family. He said he has some poor man's habits like always switching off the lighting when leaving a room to save on electricity bills.

12:47 GMT

The situation with road construction in Russia has worsened this year due to a shortage of resources, Putin said. The federal government may increase funding to address the problem, he added.

12:44 GMT

He elaborated, saying that everyone had experience of being on the receiving end of deception. Putin said he never acts hastily, even when he is certain he is being lied to. "I get to understand what the person wanted and why. But I never forget," he said.