Female officer & 2 people injured in Munich shooting, suspect detained (PHOTOS, VIDEOS)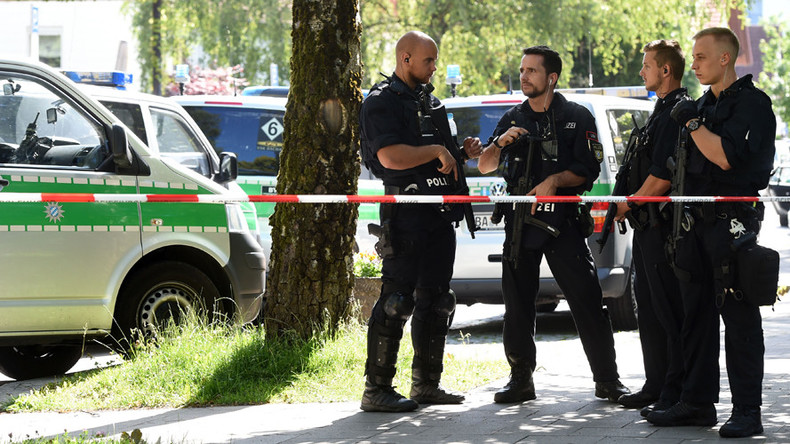 A female police officer sustained a "life-threatening head injury" and two more people were lightly injured in a shootout at a train station in Munich, Germany. The suspect, also injured, has been detained.
According to a police statement, officers have been called in to the station over reports of a brawl on a commuter train. Upon arrival, police had an argument with one of the persons involved in the brawl, who "according to the preliminary information pushed one of the officers on to the tracks."
The person in question then managed to grab the police officer's gun. In an ensuing shootout, a policewoman has been shot in the head, with the injury appearing to be "life-threatening," according to the statement.
"The perpetrator, a 37-year-old German, was subsequently arrested by additional personnel. He was injured in the shootout," police noted.
The man "was detained by Munich and Federal Police forces not far from the subway station near the office buildings," according to Munich police spokesperson Marcus da Gloria Martins.
Two people were also wounded in the shooting, police said, adding that there is no danger to their lives. They are being treated at a Munich hospital.
According to the latest official information, the suspect acted alone and had no other complicities.
About 100 police officers were deployed to the scene, with helicopters hovering above, according to local media.
Special Deployment Commandos (SEK), a specialized operation police unit of the 16 German state police forces, had been dispatched as well, Bild reported, posting pictures of the officers armed with assault rifles.
"Political or religious" motives are unlikely to be behind the assault, Martins noted. Bavarian police said in a written statement that "there are no signs of a terrorist background."
The incident occurred at the Unterfoehring Station on Tuesday morning.
Passengers have been evacuated, and the area around the station blocked off by police.
You can share this story on social media: