Iran's supreme leader calls US fight against ISIS 'a lie' as allegations intensify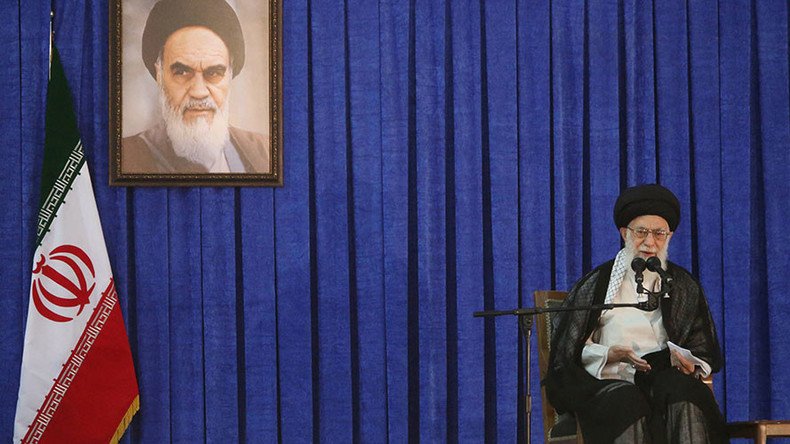 Iran's Supreme Leader, Ayatollah Ali Khamenei, has claimed Washington is lying about fighting terrorism in the Middle East, saying US activity has instead given rise to Islamic State. Tehran's foreign minister says the US has not honored the nuclear deal.
"You [the United States] and your agents are the source of instability in the Middle East... Who created Islamic State? America ... America's claim of fighting against Islamic State is a lie," said Khamenei, the hardline Iranian leader known for his sharp anti-American rhetoric, addressing senior Iranian officials on Monday.
Weighing on the chances of Iran-US relations improving, Khamenei said there was hardly any room for rapprochement, arguing that Washington is against the very idea of "an independent Iran," Reuters reported.
"America is a terrorist country and backs terrorism... therefore, we cannot normalize ties with such a country," Khamenei said.
It comes as relations between Tehran and Washington have grown increasingly strained, most recently overshadowed by a string of allegations made by a number of high-ranking Iranian officials claiming the US had forged an alliance with Islamic State (IS, formerly ISIS/ISIL).
On Sunday, Deputy Chief of Staff of the Iranian Armed Forces, Major General Mostafa Izadi, claimed Tehran had obtained "documents and information" that purport to prove that Washington has been directly supporting IS to wage "a proxy warfare in the region."
Izadi, however, did not present any tangible proof to support the claims.
Earlier, Iranian Parliamentary Speaker Ali Larijani accused Washington of being an ally of Islamic State in the region.
With relations between two nations on the rocks, the 2015 nuclear deal, which was considered a breakthrough at the time it was struck, also came in play.
On Monday, Iranian Foreign Minister Javad Zarif blamed the US of disregarding its part of obligations under the nuclear deal, adding that US President Donald Trump will be forced to stick to it under international pressure.
Speaking alongside his Norwegian counterpart Børge Brende in Oslo on Monday, Zarif called out Washington for failing to deliver on the deal, hailing the milestone agreement between Iran, US and five other world powers as "an important achievement for the international community in reducing tension and preventing an unnecessary crisis from taking a toll on peace and security."
Zarif lamented that Washington "has not lived up fully to its commitment under the deal," while, Iran, for its part, has been "time and again" found in compliance with its provisions by the International Atomic Energy Agency [IAEA].
Urging the US administration to revise its approach to the deal, repeatedly decried by Trump as the "worst deal ever negotiated," the top Iranian diplomat argued that in the long run the US "will find it necessary to abide by the deal," as cited by Iran Front Page News.
While acknowledging that the stance of the current White House administration on the deal's future "is not very promising," Jarif argued that since the deal involves several parties, they will not let the US sabotage what took their common efforts to seal.
"We believe that the rest of the international community will make it clear – as it has done already to them – that it considers the nuclear deal as a multilateral agreement and not a bilateral agreement between Iran and the United States," Zarif said.
READ MORE: 'Death to Saudi & US': Thousands of mourners attend funeral for Tehran attack victims
In the wake of deadly terrorist bomb and gun attacks on the Iranian parliament and Ayatollah Khomeini's shrine in Teheran earlier this month, Trump ignited the fury of the Iranian authorities by implying that Iran's alleged sponsorship of terrorism had backfired in the form of the attack that killed at least 13 people and injured dozens more. The attack was claimed by Islamic State militants via its news agency Amaq.
"We underscore that states that sponsor terrorism risk falling victim to the evil they promote," Trump said in a statement that also expressed condolences to the victims.
Commenting on the statement at the time, Zarif called it "repugnant" and slammed a new round of US sanctions against Iran recently approved by Senate.
You can share this story on social media: