National Day of Russia celebrations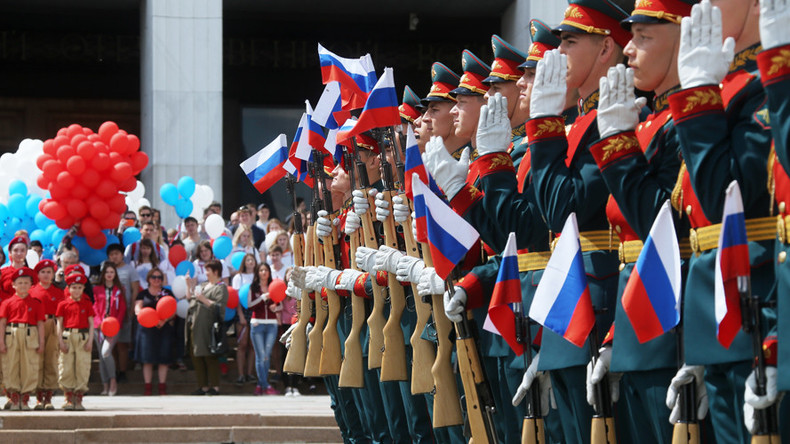 People across Russia are celebrating the national day, with parades, balls, historical reenactments, and various other events.
12 June 2017

18:31 GMT

Students of the State Fire Academy unfolded a huge state flag on Poklonnaya Hill, cerebrating Russia Day. The flag, measuring 1,014 square meters, is the largest Russian flag in the world, according to a statement released by the Emergencies Ministry.

17:01 GMT

Some 3.8 million people participated in mass events celebrating Russia Day across the country, the Interior Ministry said in a statement. Around 3,000 events were organized to mark the main national holiday, the authorities said, adding that as of 7pm Moscow time public events were continuing in many locations.

The National Guard and police officers are providing security at the events, the ministry added.

14:39 GMT

Sokolniki Park has become one of the major Russia Day venues in Moscow. The celebrations kicked off with 'Big Workout,' led by prominent extreme motorcyclist Marat Kankadze. Also, the Russian Football Champions Cup was put on display to the public.

Following the sport events, a concerts featuring young Russian bands began, with a literature festival also taking place in the park.

More than 200,000 people took part in the festivities at Sokolniki Park, police said.

13:44 GMT

Some 2.5 million people in Moscow are taking part in the celebrations dedicated to Russia Day, according to the Interior Ministry website.

12:51 GMT

An international flower festival is taking place in St. Petersburg.

12:46 GMT

Some 270,000 people are participating in the celebrations on Russia Day in Moscow, according to the latest statement by the Interior Ministry.

12:11 GMT

About 1,000 people are participating in the opposition protest on Sakharova Street, sanctioned by the Moscow authorities, the press service of the Interior Ministry has said.

11:59 GMT

Over 5,000 residents of the Republic of Ingushetia have taken part in Russia Day celebrations, with the biggest events taking place in the city of Nazran, the press service of the republic's head, Yunus-Bek Evkurov, told Interfax.