Iran accuses US of alliance with ISIS, claims to have proof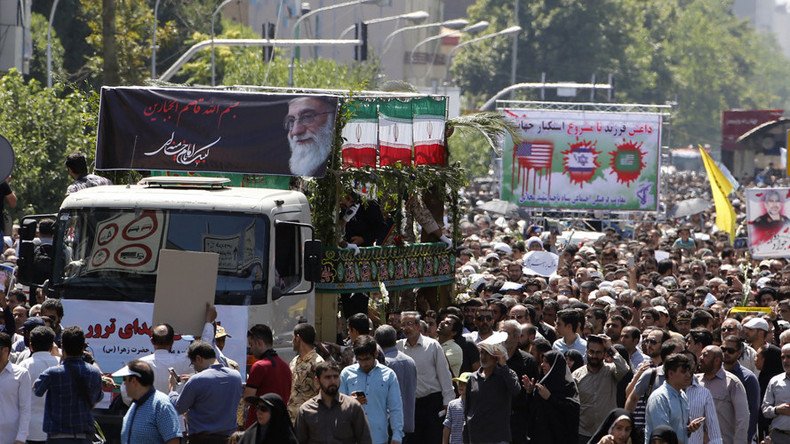 Senior Iranian officials have accused the US of supporting the Islamic State terrorist group and effectively forming an alliance with it, claiming that Tehran possesses documents to prove the allegations. No evidence, however, has yet been presented.
Deputy Chief of Staff of the Iranian Armed Forces Major General Mostafa Izadi on Sunday accused the US of supporting Islamic State (IS, formerly ISIS/ISIL), stating Tehran has evidence to back the bold allegations.
"We possess documents and information showing the direct supports by the US imperialism for this highly disgusting stream [IS] in the region which has destroyed the Islamic countries and created a wave of massacres and clashes," Fars news agency quoted Izadi as saying.
The alleged American support for IS, according to Izadi, is an instrument of "proxy warfare in the region" which is a "new trick by the arrogant powers against the Islamic Republic."
The statement of the Deputy Chief of Staff echoes the remarks made by Iran's Parliamentary Speaker Ali Larijani on Friday. "The United States has aligned itself with the ISIL in the region," Larijani said, according to the Fars news agency. Larijani's was addressing a funeral ceremony of the victims of Wednesday terrorist attacks in Tehran.
Thousands gathered to commemorate the fallen, shouting "Death to Saudi Arabia" and "Death to America."
"The [terrorist attacks] indicated that the terrorist groups had failed to achieve their main goal and targeted the parliament and Imam Khomeini Mausoleum, finally resorted to martyring the innocent people and the staff at the parliament," Larijani added.
READ MORE: 'Mastermind' of Tehran terrorist attacks killed by Iranian security forces
On Friday Iran's supreme leader, Ayatollah Ali Khamenei said the attacks would only increase Tehran's hatred against the US and its "stooges," including Saudi Arabia.
IS has claimed responsibility for this week's twin attack in Tehran. Seventeen people were killed when four armed assailants attacked the country's parliament while a suicide bomber blew himself up at the Imam Khomeini Mausoleum.
You can share this story on social media: