Australia to build its first terrorist jail amid rise in Islamist-inspired attacks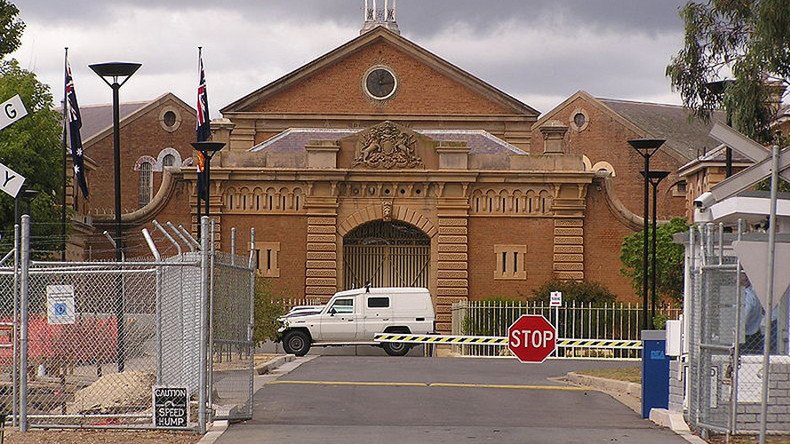 Australia is planning to build its first prison solely for militants with extreme views to prevent the radicalization of other inmates. The move comes days after a shooting and hostage situation in Melbourne that was later claimed by Islamic State.
The new "mini-max" jail will be part of Goulburn Supermax Correctional Centre, a maximum and minimum security prison complex for male prisoners, in New South Wales (NSW).
"We don't want to see people already behind bars subject to radicalization," NSW Premier Gladys Berejiklian said on Sunday, announcing the project.
The government is planning to spend AUS$47 million (US$35 million) over the next three years on the project, dubbed Supermax II. The new jail, equipped with CCTV cameras, will house 54 prisoners. The authorities hope the facility will be completed by the end of 2018.
READ MORE: 'High risk' terror inmates banned from communicating in Arabic at Australian jail
The number of inmates held on extremist charges has more than doubled since 2013, according to Corrective Services NSW Commissioner Peter Severin. At least 33 of the 45 Supermax inmates have been either convicted or charged with terrorism-related offences, he said.
"We keep the al-Qaida affiliates, who are highly disciplined and very dogmatic, away from the IS affiliates, who are unruly young tearaways who engage in noisy behaviour and challenge everyone and everybody," he told the Telegraph.
"It is about making sure that we don't have a situation where people have unduly influence over others across the system," Severin said. "We are dispersing them in a way that will allow us eventually to get them to disengage."
Severin added that "by centralizing those who have the potential to cause the most harm," the government will "keep the rest of the system safe."
The new unit was a "decision [Australia] had to make" as there are "too many terrorists in Supermax" at Goulburn, NSW Corrections Minister David Elliott said, as cited by the Sydney Morning Herald.
"The war against terror has another decade or two to go," he said. "So we are preparing for the fact that we may need more capability."
Australian Immigration Minister Peter Dutton hailed the project.
"So long as the way in which these prisons are designed and configured doesn't mean all the terrorists are together in each other's company reinforcing each other's ideology," he told Sky News Australia.
The prison complex houses some of the country's most notorious criminals, including Ivan Milat, a serial killer from 1990s, who was convicted without parole. Several convicted extremists who plotted the 2005 Sydney terrorist attacks are also among the inmates at the facility.
The news on the Supermax II comes after Somali-born Yacqub Khayre took a woman hostage in an apartment block in Melbourne earlier in June. One man died during the siege, as well as the attacker. Islamic State (IS, formerly ISIS/ISIL) claimed responsibility for the incident.
Later, authorities confirmed that Khayre was on parole after serving time in prison for a violent burglary in 2012. According to Australian media reports, he was also known to counterterrorism authorities for his alleged involvement in a 2009 terrorist plot to attack the army barracks in Sydney.
You can share this story on social media: