Watch Russian aerobatic team show off amazing air stunts & maneuvers (VIDEO, PHOTOS)
Published time: 10 Jun, 2017 16:59
Edited time: 11 Jun, 2017 09:32
Russian military aircraft took to the skies, performing air stunts and demonstrating maneuvering skills in a massive display, as the Russian 'Berkuts' helicopter aerobatic team celebrated its 25th anniversary.
The Saturday aviation show in the Tver Region featured performances by other aerobatic teams, including the Russian Knights and the Swifts (Strizhi). The public got to watch the latest models of combat and transport helicopters, the Mi-28N 'Night Hunter', Ka-52 'Alligator', Mi-35M, Mi-26T, Mi-8AMTSh 'Terminator' and Mi-8AMTSh-VA, as well as fighter jets in action.
Apart from the Berkuts (golden eagles) team, flying the Mi-28N 'Night Hunter' attack helicopter, the Russian Knights showed their Sukhoi-27SM Flanker fighters.
READ MORE: Fighter jet aerobatics by legendary Russian Knights will blow your mind (VIDEO)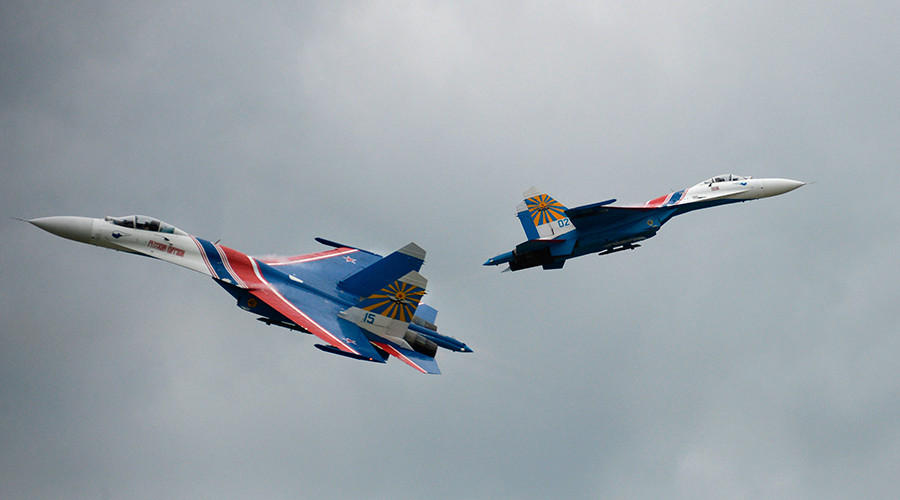 The joint flight of Sukhoi-30SM jet and four Mi-28N helicopters at their maximum speed became a highlight of today's show.
According to TASS, the air show drew more than 15,000 spectators, with some sharing their pictures online.