Israel bans university lecturers from discussing politics in class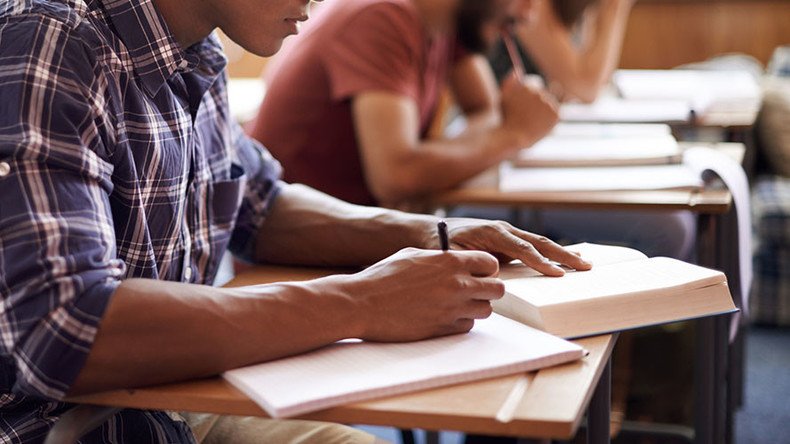 Lecturers at Israeli academic institutions will be barred from discussing political issues with their students, after the education minister introduced a new "ethical code." Breaking it could mean a reprimand or disciplinary action.
Lecturers at Israeli universities will be restricted in expressing their views to students under the "ethical code on political activity in academia" composed by Professor Asa Kasher, who also authored the ethical code of the Israeli Defense Forces (IDF), Ynet reported.
Education Minister Naftali Bennett, who requested the development of the code, wants the restrictive rules to be implemented at all academic institutions.
"Complete academic freedom – yes. Promoting political agendas of lecturers in academia – no," Bennett argued.
"Academia is not a political party, and students should not be afraid to express their opinions in class, fearing it would affect their grades."
In addition, the minister said lecturers should not be allowed to call for a boycott against the institution where they work.
"This is not against any political side – it is sweeping across the political spectrum," he asserted.
According to the code, discussing politics during lectures will only be allowed if it is relevant to the respective course, such as political science.
Apart from lecturers, academic departments will also be barred from contacting politically-affiliated groups or organizations. Notably, each institution would be required to enforce the ethical code and oversee employees' political activities.
Even at this stage, the ethical code does not appear to be a mere set of guidelines for lecturers. Those discussing politics with their students may receive a reprimand or further disciplinary actions.
According to the new ethical code, lecturers would only be allowed to discuss political issues in class when it is relevant to the course, such as in political sciences, Ynet reports.
In addition, the code forbids faculty members from participating in an academic boycott or calling on others to support such boycotts.
The controversial proposal predictably caused outrage among academics, the news outlet reported. Many said in advance they will not stick to the restrictions, arguing the government is not in a position to dictate its will to academics.
"We, lecturers in higher education, declare we intend to completely ignore the conclusions of the Kasher committee... the government has no authority to determine what expressions are appropriate in academia," said a petition signed by hundreds of lecturers back in December, when it became known that Minister Bennett had asked Professor Kasher to write an ethical code, as cited by Ynet.
You can share this story on social media: