Unfazed 'lone warrior' Xi Jinping faces entire Team Putin (VIDEO)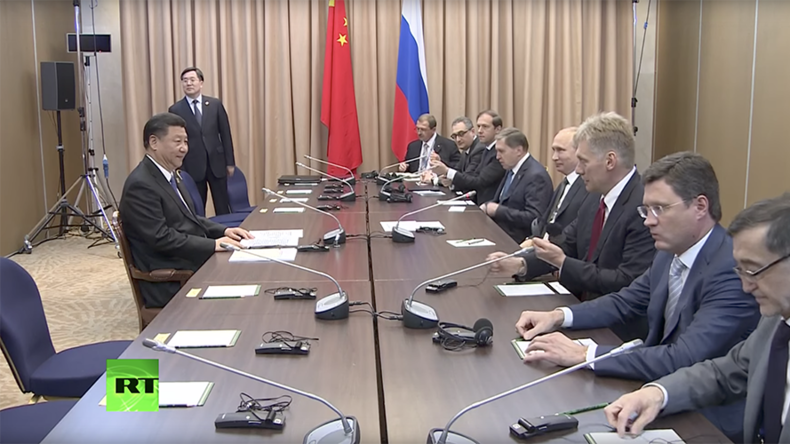 A brief delay by the Chinese delegation left President Xi Jinping facing the entire Russian team solo, prompting President Vladimir Putin to jokingly call his Chinese counterpart "a lone warrior."
The leaders of China and Russia had a face-to-face meeting on Thursday amid the ongoing meeting of the Shanghai Cooperation Organization in Astana, Kazakhstan. The encounter was held on camera, but apparently some glitch in protocol resulted in a brief delay for the Chinese delegation, footage of the episode showed.
This left Xi sitting alone opposite Putin and seven members of his delegation. As seconds stretched, the Russian leader, who was not able to start his welcome speech in the absence of Xi's entourage, defused the growing tension, remarking that his Chinese counterpart was a "lone warrior" at the table.
The Chinese officials then arrived and the meeting went on as planned, with Putin and Xi exchanging pleasantries and pledging to continue building stronger relations between the two nations.
Xi played host to Putin last month when Beijing held its high-profile 'One Belt, One Road' economic summit and they will meet again in early July, when the Chinese president is to visit Russia.
You can share this story on social media: