CNN's Amanpour challenged to go talk to 'Aleppo boy'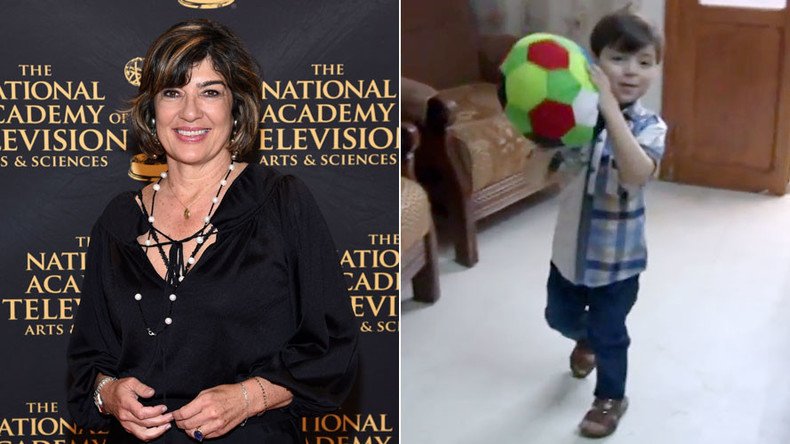 CNN anchor Christiane Amanpour, who challenged the Russian foreign minister with a photo of 'Aleppo boy', should go and ask the child and his family for the real story behind the iconic picture, the spokesperson for the Russian Foreign Ministry said.
Omran Daqneesh was filmed by the controversial White Helmets group last year. The image of him covered in blood and dust sitting in an orange ambulance chair in the aftermath of an airstrike quickly went viral.
The Western mainstream media touted the boy as the face of civilian suffering in Aleppo, which at the time was divided between pro-government and rebel forces and suffered under intensive fighting.
Amanpour used the picture of Daqneesh in her October interview with Russian Foreign Minister Sergey Lavrov to question Russia's support of Damascus in the Syrian conflict.
"What do you say to the civilians, who are simply asking for the right to not be bombed?" she asked after showing the photo. "That is a war crime, sir."
Daqneesh resurfaced in world media this month after his family agreed to talk to some journalists, including RT's Ruptly news agency. His father Mohammad Kheir Daqneesh accused the White Helmets of using his family to produce propaganda.
On Thursday, Russian Foreign Ministry spokeswoman Maria Zakharova challenged Amanpour to properly follow up on the story she once put forth.
"She may have enough courage, journalistic professional ethics and simple human conscience to finish it. To go to Aleppo, to go to Syria, find the family of that boy and do a really honest interview with him, not a staged one, which CNN is so capable of," Zakharova said.
"You may ask some possibly difficult questions and produce a true report about this boy. About how the US media have been spinning his photo and his story and for years the fate of Syria as well," she added.
Zakharova added that the mainstream media, including the CNN, "have been caught red-handed" with their use of the "Aleppo boy" image, and should take responsibility for it.
RT Editor-in-Chief Margarita Simonyan offered help in organizing an interview.
"We could take Christiane Amanpour and anyone wishing to come with us next time. As long as they have the courage to talk to this boy Omran and his family," she said.
You can share this story on social media: