Iraqi Kurds to hold independence referendum in September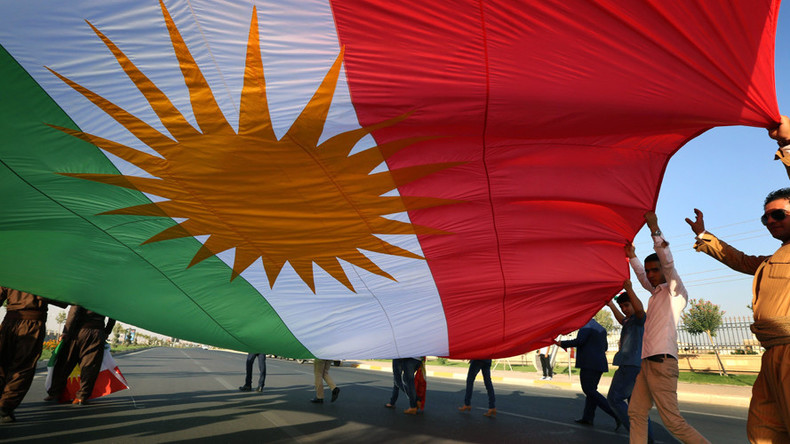 Iraq's Kurdish region will hold an independence referendum in September, the autonomous region's government announced in a statement. The move is likely to be opposed by Baghdad which has long voiced its opposition to Kurdish secession.
"September 25, 2017 was designated as the day for holding the referendum" on independence, the presidency of the autonomous Kurdish region in Iraq said in a statement, as quoted by AFP.
The announcement followed a meeting of Kurdish political parties chaired by Massoud Barzani, who heads the Kurdistan Regional Government (KRG), Rudaw reported.
READ MORE: 'Not if, but when': US intel chief says Kurdish secession from Iraq imminent
The meeting's participants "unanimously agreed" on holding the referendum, according to a statement from the talks published by Rudaw.
A tweet from Barzani's assistant, Hemin Hawrami, also confirmed the referendum date.
"Big news. Kurdistan Referendum for independence is on 25/9/2017," the tweet states.
Big news. Kurdistan Referendum for independence is on 25/9/2017.

— Hemin Hawrami (@heminhawrami) June 7, 2017
A later tweet posted by Hawrami showed a photo of those present at the meeting, referring to them as "founding fathers."
Today's historical moment. President Barzani along w/ all political parties who decided to have referendum on September 25.Founding fathers pic.twitter.com/X6G0DmIR8U

— Hemin Hawrami (@heminhawrami) June 7, 2017
Hawrami also tweeted that Kurdistani areas which are claimed by both Kurdistan and Iraq will also be included in the referendum. Among those, the key oil-rich province of Kirkuk.
Referendum on 25/9/2017 is for Iraqi Kurdistan including kirkuk, Khanqin, Sinjar & Makhmor. The ? Is: Do you want an independent Kurdistan?

— Hemin Hawrami (@heminhawrami) June 7, 2017
Iraqi Kurdistan consists of three provinces that are run by an autonomous regional government and protected by its own security services. Iraqi Kurds have long sought to secede from Iraq, arguing that they have a right to self-determination and that they have their own ethnic identity.
Wednesday's announcement comes just two months after Iraqi Kurdistan released a roadmap for a referendum, with Kurdish leaders stating at the time that a vote is a "natural right of the nation of Kurdistan to decide on its political and administrative path in a referendum and an entity of an independent state."
READ MORE: Iraqi Kurdistan sets roadmap for independence referendum
Iraqi Kurdistan already has its own military, known as the Peshmerga, which prevented Islamic State (IS, formerly ISIS/ISIL) militants from capturing Kirkuk in 2014.
Kurd militias are also essential to the US-led coalition's campaign to fight IS in Iraq and are currently active in the battle for Mosul.
The autonomous region is determined to further build its military capabilities, with a Peshmerga official telling Kurdistan24 last month that Kurdish leaders are considering the purchase of combat aircraft to establish an air force.
Independence for Iraqi Kurds is not only opposed by Baghdad, but possibly Turkey, Syria, and Iran as well, all of which have significant Kurdish populations and may fear that such a move could inspire similar efforts back home.