Iran's Revolutionary Guards blame Saudis for Tehran attacks, Riyadh rejects accusation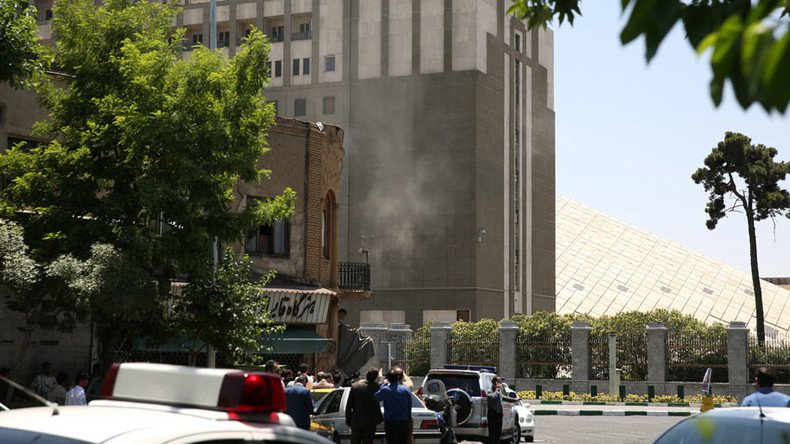 Iran's Revolutionary Guards have accused Saudi Arabia of masterminding the deadly attacks in Tehran on Wednesday, a claim which Riyadh has denied. Islamic State previously claimed responsibility for the attacks which killed at least 12 people.
"This terrorist attack happened only a week after the meeting between the U.S. president (Donald Trump) and the (Saudi) backward leaders who support terrorists. The fact that Islamic State has claimed responsibility proves that they were involved in the brutal attack," said the statement, as quoted by Reuters.
Saudi Arabia's foreign minister, Adel Al-Jubeir, has denied that Riyadh was involved in the attacks.
"We condemn terrorist attacks anywhere they occur and we condemn the killing of the innocent anywhere it occurs," Jubeir said, as quoted by Reuters.
He went on to state that there is no evidence to implicate Saudi Arabia in the attacks, and that Riyadh has no knowledge of who was responsible.
"We don't know this. We haven't seen the evidence," he said, reiterating Riyadh's position that Iran is the primary sponsor of terrorism around the world.
Earlier, Brigadier General Hossein Salami, IRGC deputy commander, said that Iran will "take revenge" for the attacks.
"Let there be no doubt that we will take revenge for today's attacks in Tehran, on terrorists, their affiliates and their supporters," he said, as cited by the news agency Mehr.
Meanwhile, Iranian President Hassan Rouhani said the attacks will make the country more united.
"Today's terrorist attacks in Tehran will make the Islamic Republic of Iran more determined in the fight against regional terrorism, extremism and violence," he said in a statement published by ISNA news agency.
"We will prove once again that we will crush the enemies' plots with more unity and more strength."
Twelve people were reported killed and 43 injured in gun and bomb attacks in the Iranian capital. The perpetrators targeted the Iranian parliament and Ayatollah Khomeini's shrine.
Both attacks were claimed by Islamic State (IS, formerly ISIS/ISIL), the jihadist organization based in Iraq and Syria. Iran supports both countries in their fight against IS.
IS also threatened Iran's majority Shiite population with more attacks, saying "the caliphate will not miss a chance to spill their blood" until Sharia law is implemented, Reuters reported.
The attacks in Tehran were the first that IS had claimed responsibility for in the Shiite Islamic republic.
The timing of the attacks, shortly after a presidential election in Iran, may indicate that the perpetrators want to cast doubt on the decision of the Iranian people to give President Hassan Rouhani a second term, Middle East expert Catherine Shakdam told RT.
"Iran has just conducted quite successfully its presidential election. Everything went according to plan, it was peaceful, it was progressive," she said.
"There is a clear desire to drive a narrative of fear and to make people have a sense of insecurity and doubt their officials and how they can protect their own borders."
You can share this story on social media: