'Irresponsible': Beijing blasts Pentagon report claiming China eyes more military bases overseas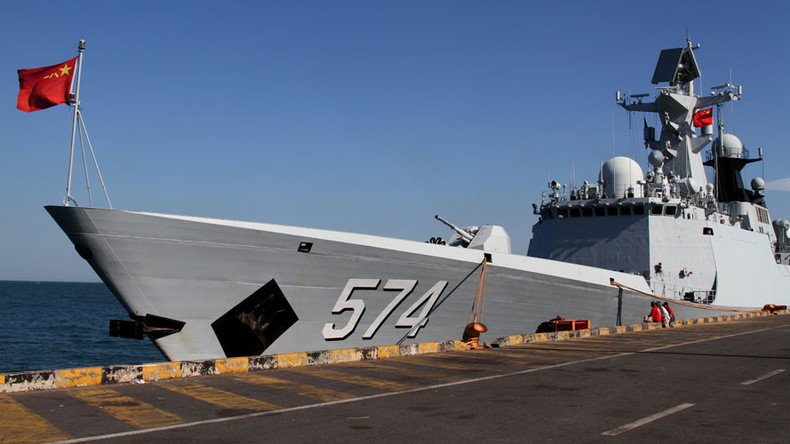 China actively seeks military presence overseas and modernizes armed forces to deter or defeat "third-party interventions," including by the US, the Pentagon warned in its latest report which Beijing described as a set of "irresponsible remarks."
The 100-page report, entitled 'Military and Security Developments Involving the People's Republic of China', comes amid rising tensions in South China Sea and adjacent areas, where Washington's and Beijing's interests appear to be on collision course.
The paper notes that ambitious military reforms initiated by President Xi Jinping in 2015 are "essential to achieving great power status" and "national rejuvenation."
The People's Liberation Army (PLA) is building capacities "to fight short-duration, high-intensity regional conflicts at greater distances from the Chinese mainland," as well as to strengthen the Communist Party's control over the military.
Pentagon has accused China of employing "coercive tactics," such as "the use of law enforcement vessels and its maritime militia, to enforce maritime claims and advance its interests in ways that are calculated to fall below the threshold of provoking conflict."
It also mentioned Chinese maritime patrols in the contested areas of East China Sea, where Beijing and Tokyo are claiming the Senkaku Islands, also known as Diaoyu Islands in China. In the South China Sea, the report said, Beijing "continued construction at its military outposts in the Spratly Islands," including dual-use airfields and other facilities.
However, the most notable trend in China's military policy is the determination to project power well beyond Asian region, according to Pentagon analysts.
"China likely will seek to establish additional military bases in countries with which it has longstanding, friendly relationships," the report predicts.
In February 2016, China began construction of a military base in Djibouti, a country located in the Horn of Africa, and is expected to inaugurate the facility within the next year. Pakistan, which has "a precedent for hosting foreign militaries," may become another location to host a Chinese overseas compound, the Pentagon report said.
"China's leaders remain focused on developing the capabilities to deter or defeat adversary power projection and counter third-party intervention – including by the United States – during a crisis or conflict," the Pentagon concluded, adding Beijing's military modernization might "degrade core US military-technological advantages" in the foreseeable future.
The US military has previously fanned fears of emerging near-peer opponents such as Russia and China, whom Washington perceives as prime national security threats. Earlier, Pentagon said the two world powers are massively investing into critical military assets, including combat aircraft, surface warships and submarines, as well as cyber capabilities.
Later on Wednesday, Beijing said it was "firmly opposed" to the report as it included baseless assumptions and disregarded facts. The Pentagon report also made "irresponsible remarks on China's national defense development and reasonable actions in defending our territorial sovereignty and security interests in disregard of the facts," Chinese Foreign Ministry spokeswoman Hua Chunying told reporters, as cited by AP.
She stressed that China is committed to preserving peace and stability in the Asia-Pacific region and beyond. While Hua declined to comment on Chinese overseas facilities, she said China and Pakistan were close partners who enjoy successful cooperation in various fields.
You can share this story on social media: