US nuclear-powered attack submarine docks in S. Korea (VIDEO)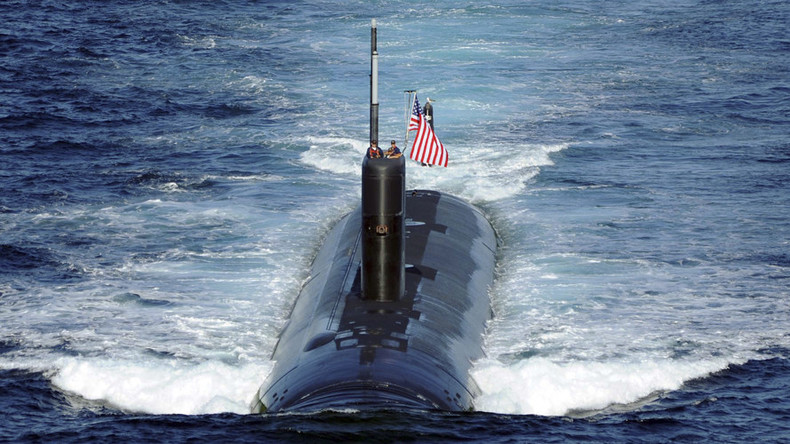 The USS Cheyenne nuclear submarine has arrived in South Korea to replenish supplies amid heightened tensions on the Peninsula over Pyongyang's missile and nuclear programs.
The nuclear-powered Los Angeles-class attack submarine docked in the southern port city of Busan on Tuesday after visiting Japan last month, where it conducted drills with the Japanese Maritime Self-Defense Force.
While Washington has yet to elaborate on the submarine's mission to the Peninsula, an anonymous military official told Yonhap News that the USS Cheyenne is not scheduled to participate in any drills in the region.
According to the source, the 6,900-ton vessel docked about 450 miles south of Seoul to allow its crew to rest and replenish supplies.
The submarine carries Tomahawk missiles that have a maximum target range of 3,000km. Measuring more than 362 feet long, the sub is capable of executing anti-submarine, anti-surface ship and strike warfare.
It is the same submarine class that the US used in April to unleash dozens of cruise missiles at a Syrian airbase, from which it said a deadly chemical weapons attack was launched in Idlib province.
Last month, while discussing North Korea's nuclear weapons program, US President Donald Trump told his Philippines counterpart, Rodrigo Duterte, that the United States has a lot of "fire power" in the region to counter the North Korean threat.
"We have two submarines – the best in the world – we have two nuclear submarines – not that we want to use them at all," Trump said.
In late April, missile-armed USS Michigan also docked in South Korea just as the incoming group of warships led by aircraft carrier Carl Vinson approached the Peninsula.
Trump has made it his administration's priority to halt the North Korean missile and nuclear programs, which have accelerated under Kim Jong-un. The latest missile launched by Pyongyang on May 28 flew 450km before landing in the Sea of Japan, about 300km off the Japanese coast.
In return, the US conducted an interceptor test intended to shoot down intercontinental ballistic missiles (ICBM), which the Pentagon claimed was planned "years in advance."