9 injured, passengers thrown against ceiling as KLM plane hits turbulence near Hong Kong airport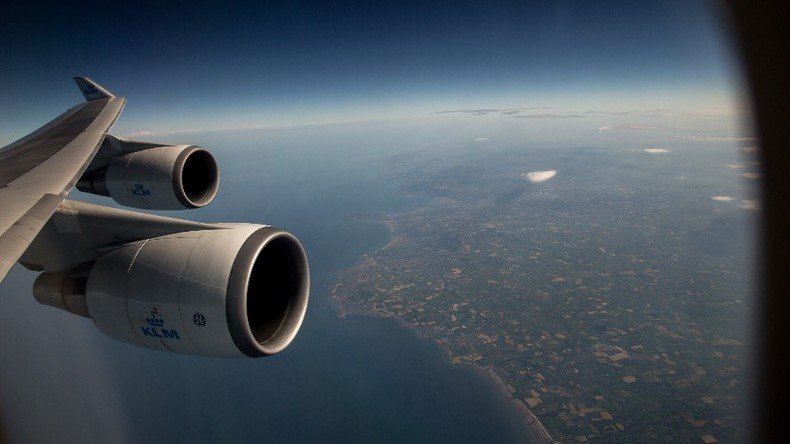 At least nine people have been injured when a Royal Dutch Airlines plane coming into Hong Kong International Airport hit heavy turbulence, which threw some passengers out of their seats and sent objects flying across the cabin, local media reported.
The incident occurred Sunday morning, when the Royal Dutch Airlines (KLM) flight KL887 from Amsterdam was approaching Hong Kong, according to Chinese media. The plane landed safely at the airport and emergency services were called to the scene.
The plane unexpectedly encountered turbulence shortly after the breakfast was served, South China Morning Post (SCMP) reported, citing passengers.
READ MORE: Multiple people injured after plane hits turbulence coming into Sydney Int'l Airport
"The pilot was telling us in the broadcast that we would be arriving in Hong Kong in 30 to 40 minutes. When he was still talking, I started to feel the turbulence. It felt like we were in free fall," the media outlet quoted one passenger as saying.
Hong Kong online media outlet, HK01.com, has released pictures and footage of the injured people attended by emergency services.
Some of the turbulence victims were seen wearing oxygen masks and head braces while emergency services took them to the hospital.
Seat belt signs were not activated and therefore many passengers did not have them fastened. Some people were propelled out of their seats into the ceiling, and various objects were sent flying.
"The man next to me did not have his seat belt fastened. He hit the ceiling… the seat belt sign was not on at the time and so some people were also in the toilet," the passenger added.
Following the turbulence, the pilot emerged from the cockpit to reassure passengers and prevent panic on board, SCMP reported.
While Airport Authority spokesman said that six passengers and two crew members were injured in the incident, local police later said that five men and four women were hurt, according to the newspaper.
Ten people received injuries, according to Chinese CGTN news outlet.
"Immediately after the incident, the captain requested priority to land, which was granted by air traffic control," a KLM spokesperson told SCMP. "KLM will assist the [injured] passengers and crew members. We are also taking care of the other passengers as it might have also been a frightening experience for them."
You can share this story on social media: