'CETA is against people': Hundreds protest EU-Canada free trade deal in Madrid (VIDEO)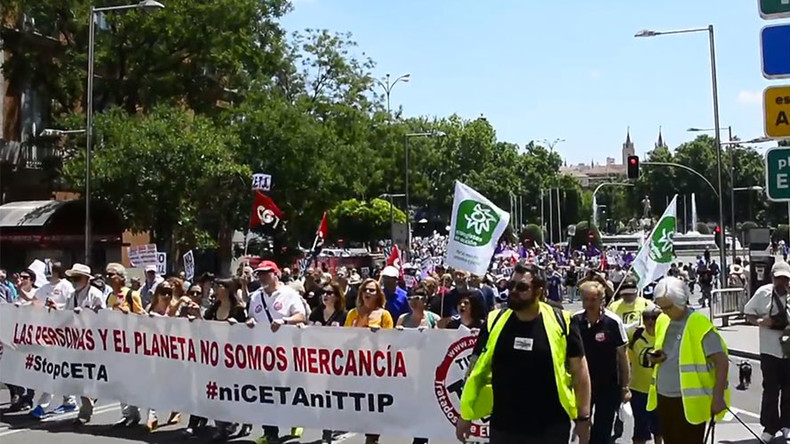 Hundreds of activists marched through the streets of Madrid demanding the Spanish government block the contentious free trade deal between the EU and Canada, known as the Comprehensive Economic and Trade Agreement, or CETA.
Scores of protesters from more than 400 trade unions and social organizations showed up Saturday. Demonstrators held placards reading, "Democracy and public services are not sold but defended," and "Against Europe of inequalities."
"We are here because we want to stop CETA. CETA is a trade deal that is against democracy, against people, against the rights of the working class, and we don't want the Spanish government to ratify it," one of the protesters told Ruptly video agency.
People carrying "Anti-CETA" banners were accompanied by tractors provided by farmers and ranchers' organization, coming to protest among other groups.
The march set off from Madrid's largest railway station, Atocha, and proceeded to the Congress of Deputies, which is due to vote on the Comprehensive Economic Trade Agreement (CETA) later in June.
"All for the benefit of trade, but of course, to the detriment of citizens' rights, we are talking about respect for environmental standards, respect for trade union rights... basic rights of the people," an Ecologists in Action representative, Francesca Ricciardi, told Ruptly.
Following seven years of negotiations, the bloc voted in favor of CETA in February amid sweeping protests across European cities. The deal is designed to "create new opportunities for EU companies," by reducing tariffs and boosting the trade and investment.
READ MORE: Thousands protest EU-Canada trade deal in demos across Europe
However, the opponents of the deal argue that it will harm European environmental, labor and consumer standards, resulting in a loss of jobs.
Some of the signs carried by the protesters also read, "Stop TTIP," referring to the Transatlantic Trade and Investment Partnership between the EU and the US, another deal, similar to CETA, which has also been met with fierce public criticism across Europe.