Austrian parents jailed for taking children to IS-held parts of Syria, showing them execution videos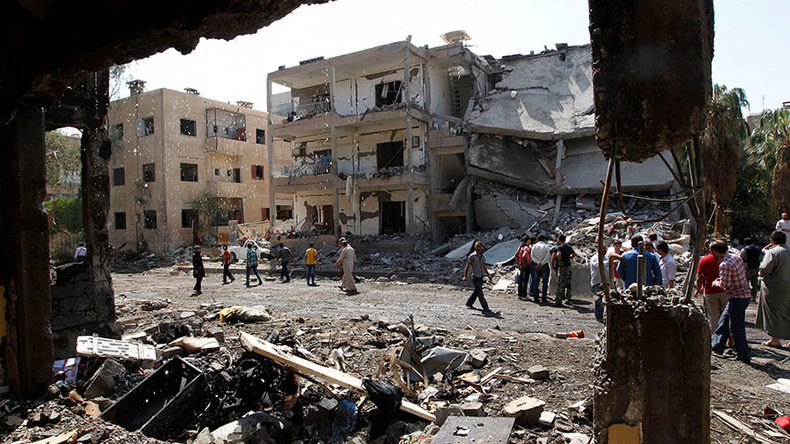 An Austrian court has sentenced two couples to up to 10 years in jail for taking their 8 children, including a 2-year-old toddler, to war-torn Syria in 2014, where the kids had to watch brutal Islamic State (IS, formerly ISIS/ISIL) execution videos.
Two couples travelled to Syria with their eight children in December 2014 – the youngest of whom was two years old at the moment, the eldest – seven, APA (Austria Press Agency) reported.
While they were housed by Islamic State, the two families lived on their own, spending money they brought from Austria.
Their children had to watch brutal execution videos, propagated by IS, and one seven-year-old boy even saw a beheading live and up close, Austrian newspaper Salzburger Nachrichten reported on Friday.
When life in Syria turned out to be less idyllic than the parents had hoped, the family fled to Turkey, but was eventually deported back to Austria, where the children were taken into care.
The prosecutor in the southern city Graz demanded a "severe, really harsh punishment" for the four defendants, the newspaper reported. They had joined Islamic State, a "gang of murderers, rapists, slaveholders and really bad guys," the prosecutor said.
All four (Hasan O, 49, and his wife Kata O, 43, Enes S, 38, and his wife Michaela S, 39,) were convicted of belonging to a terrorist organization and of mistreating and neglecting children.
They were sentenced to the maximum term of 10 years in prison, except Kata O who was given nine years.
All, except Austrian-born Muslim convert Michaela S, were from Bosnia, but all had long had Austrian citizenship, Salzburger Nachrichten reported.
The judge said the maximum penalty was imposed to make it crystal clear "that the state of Austria does not accept something like this."
One of the defendants, 49-year-old Hasan O, denied being a member of IS, however, saying he worked as a masseur, taking care of the wounded fighters.
"I heard in the mosque (in Graz) that you can live according to Islam there, with freedom for the women and children," he told the court, adding that he just wanted to spend "10 or 12 days" there, AFP reported.
Last month, Austria's parliament approved a package of measures that outlaws distributing the Koran and wearing traditional Islamic full-face veils in public. Starting in October, a €150 fine ($166) will be levied on women wearing burkas and niqabs.
It also requires asylum-seekers to take a one-year integration course, during which they must learn Austrian ethics and the German language, German newspaper Bild reported.
Earlier this year, Austrian police arrested 14 people in counterterrorism raids in Vienna and Graz "in the context of pending investigations concerning suspected participation in a terrorist organization," APA reported, citing officials.
An estimated 300 people have left or attempted to leave Austria (home to 8.7million) to fight in Syria since 2012, the agency reported in January, citing the interior ministry spokesman. Around 40 of those have died there, and 90 have returned to Austria.
There are currently 297 terrorist suspects in Austria, most of whom are war returnees; 20 percent are female, Austria's Krone newspaper said.