Macron admirer, young & openly gay: Ireland poised to appoint Leo Varadkar as new PM
Published time: 2 Jun, 2017 23:33
Edited time: 3 Jun, 2017 19:04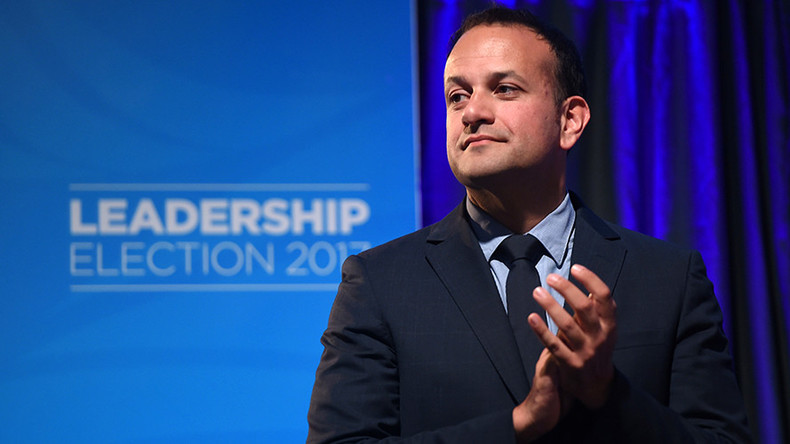 Ireland's likely next prime minister Leo Varadkar will be the nation's youngest, and one of the world's only openly gay leaders. Commentators say that his blend of fiscal conservatism and social liberalism is what will make him stand out in modern Ireland, however.
Varadkar beat his rival Simon Coveney in the race for leadership of the Fine Gael party in a close race, with the vast majority of party members voting for Coveney but the overall majority of councilors and Fine Gael MPs voting for Varadkar. The soon-to-be prime minister dismissed speculation of a split within the party.
"It's not something that defines me. I'm not a half-Indian politician, or a doctor politician or a gay politician for that matter. It's just part of who I am, it doesn't define me, it is part of my character I suppose," Varadkar told Irish state broadcaster RTE when asked about his unique background, as cited by Quartz.
Varadkar still has to meet with independents and opposition leaders with a view to forming a coalition government – which may prove difficult, given Ireland's ongoing austerity measures.
While Fine Gael claims that austerity policies are easing off and the economy is improving, Varadkar will still have to grapple with an ongoing homeless crisis, pressure to raise the corporate tax rate, a long-overdue referendum on abortion and, most notably, deal with the fallout from the UK's Brexit vote.
Some in the media have made comparisons between Varadkar and other youthful political leaders, such as Canada's Justin Trudeau and France's Emmanuel Macron.
In April, Varadkar met then-French presidential candidate Emmanuel Macron at a rally in Paris, saying it was "a privilege to attend" and that Macron is "a man whose character and values I admire." Varadkar made specific references to Macron's pro-EU stance and his "socially and economically liberal campaign."
Varadkar has decried the current state of global politics and the rise of populism.
"The political division in the world is no longer one of left versus right. It's increasingly been progressivism and open on one side versus regressivism and closed on the other," Varakar has said, the Irish Times reported.
While known as somewhat charismatic and personable, Varadkar is known to wield a sharp tongue when necessary. "The gutter is Bertie Ahern's natural habitat," he said of one of Ireland's former prime ministers, as cited by the Irish Independent.
Varadkar, 38, came out publicly as gay in 2015, almost two decades after homosexuality and divorce were both legalized in Ireland – but before the gay marriage referendum was successfully passed by popular vote.
However, his recent campaign to clamp down on alleged abuse of Ireland's welfare system, through a telephone hotline, led to widespread criticism from left-wing parties.
He also famously described his Fine Gael party as representing the "people who get up early in the morning," which drew the ire of a popular satirical news website in the country.
However, despite the initial backlash to the campaign, a recent poll showed that the vast majority of Irish people surveyed support the controversial program, privately at least.
Barring any unlikely political hiccups along the way, Varadkar is expected to take office in the next two weeks, taking over from outgoing Prime Minister Enda Kenny, who stepped down in May.
Varadkar also added that he expected to announce a referendum on the extremely sensitive issue of abortion in 2018.