EU mulls economic measures for US after Trump's withdrawal from Paris agreement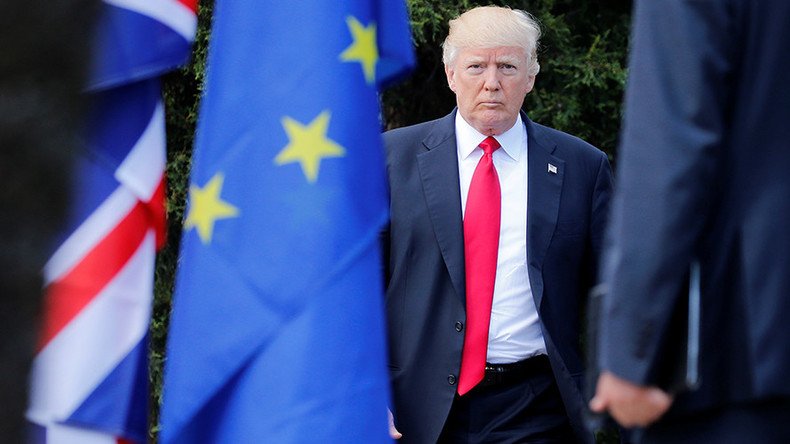 The EU is considering taking economic measures in response to President Trump's decision to pull the US out of the Paris climate agreement. These could include halting trade talks, forging closer ties with Russia, and imposing heavy carbon taxes on US exports.
In a tit-for-tat retaliation, former EU Parliament President Martin Schulz has pledged to respond to Donald Trump's pullout by refusing to engage in transatlantic trade talks.
"If the US drops out of the climate agreement... for European trade policy, this means that American production sites don't need to abide by the climate goals," Germany's center-left chancellor candidate said on Thursday, speaking at the WDR Europa Forum in Berlin.
"That is a competitive distortion against which we can only protect ourselves by saying: Whoever wants to have access to our market – and the European market is the biggest market in the world – needs to respect the European standards," he added, as cited by Politico.
Speaking on the sidelines of the St. Petersburg International Economic Forum (SPIEF), Austrian Chancellor Christian Kern said that Washington's decision to quit the agreement means that new partnerships should be established, including with Russia.
"I can clearly see that America quits the current power game, and the decision on the Paris climate agreement only confirms it. For us and for everyone else, this means that we must move forward and form new alliances, with Russia being an important partner," Kern told RIA Novosti news agency.
The Austrian politician said Europe should in no way change its climate plans just because president Trump doesn't want to be part of them. Alternatively, the EU "should enhance cooperation" in the field, and strengthen its alliances with other global powers, including Russia, China, and India, he said.
Belgian Prime Minister Charles Michel called the decision to withdraw from the Paris climate agreement "a brutal act" and "an irresponsible decision that detracts from the promises made."
"If companies in the US benefit from this, we shouldn't be naïve. We must protect and defend our economy in Europe," Michel told VRT radio on Friday, as cited by Standard.be. "I'm in favor of free trade, so we must work together with our partners to see what instruments are available to us," he said.
The EU will not be looking to impose sanctions on the US, however, according to EU Climate and Energy Commissioner Miguel Arias Canete.
"That is not something we are considering," he told Reuters on Thursday.
Trump sparked global outcry on Thursday when he announced the decision to pull the US out of the Paris Agreement on climate change.
The move wasn't unexpected. Media outlets citing sources close to the issue had been reporting during the week that Trump was likely to withdraw from the deal agreed to by his predecessor.
On Tuesday, Schulz accused Trump of wrecking Western values and undermining international cooperation.
Trump is "the destroyer of all Western values," the outspoken Social Democrat told reporters in Berlin, adding that the US president was undermining beneficial cooperation between nations based on respect and tolerance.
The Paris Agreement, which was reached in April of 2016, provides a framework for dealing with climate change globally. Countries representing 55 percent of the world's emissions originally committed to adhere to the agreement, which aims to limit the increase in global average temperatures to "well below 2°C above pre-industrial levels."
The Trump administration argued that the deal was unfair to the US economy.
"What we have to remember, when it comes to environmental agreements and international agreements with respect to things like the Paris Agreement, is we have nothing to be apologetic about as a country," US Environmental Protection Agency head Scott Pruitt told reporters on Friday, noting that the US has reduced its carbon footprint by more than 18 percent this century, which has "been largely accomplished through innovation and technology, not government mandate."
"Exiting Paris does not mean disengagement," he added. Paris was "a bad deal for this country," but "it doesn't mean that we're not going to continue the discussion, to export our innovation, to export our technology to the rest of the world, to demonstrate how we do it better here is, I think, a very important message to send."
Some of that innovation includes hydraulic fracturing, better known as fracking, and horizontal drilling, Pruitt said.
You can share this story on social media: