French prosecutor opens probe into Macron minister over property deals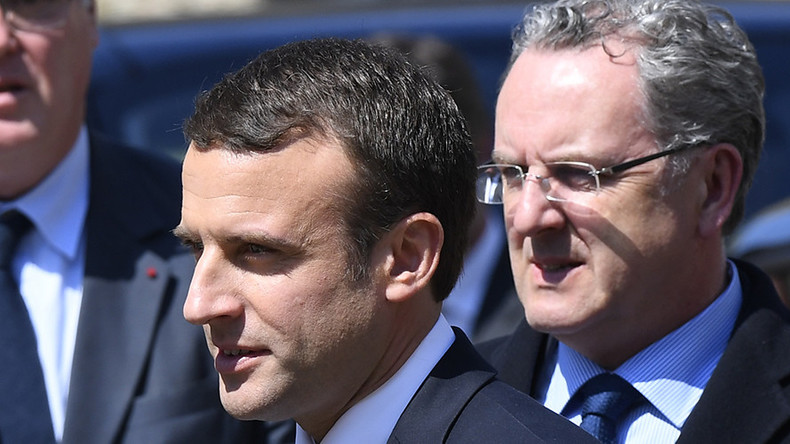 A French prosecutor has opened an investigation into a minister in Emmanuel Macron's government over controversial property deals. Alleged revelations about deals involving the minister's ex-wife and partner were published earlier in French media.
The case involves Richard Ferrand, minister of territorial cohesion, who assumed the post on May 17. Ferrand, a close ally of French leader Macron, is a member of the president's En Marche! Party, which he joined in 2016 after leaving the socialists.
Ferrand, who was a prominent figure in Macron's presidential campaign, has served as general secretary of En Marche since October 2016.
"After analyzing the complementary elements…I decided to organize the judicial police from Rennes [Brittany's capital] to initiate a preliminary investigation [into the case]," Eric Mathais, public prosecutor from the Breton city of Brest, northwest France, said in a statement.
Mathais added that investigation aims to "collect all the data necessary for a full analysis of the facts" on Ferrand's case and to determine whether these facts point to "a criminal offense."
The scandal involving Macron's close ally broke out after revelations emerged in Le Canard Enchaine, a satirical weekly newspaper, on May 24.
The paper reported that in 2011 Ferrand's partner, Sandrine Doucen, completed a beneficial rental deal with Brest-based Mutuelles de Bretagne, an insurance company then headed by Ferrand.
Ferrand's ex-wife, Francoise Coustal, also won contracts from the Mutuelles de Bretagne during the 2000s, while Ferrand was the company head, it added.
Le Monde newspaper continued the investigation, saying that both Ferrand's partner and ex-wife profited significantly after signing contracts with the company.
The paper also discovered that Ferrand continued to be a paid employee of Mutuelles de Bretagne even after his election to the National Assembly back in 2012.
Joelle Salaun, his former deputy and a close aide, later assumed Ferrand's position, but according to reports he still served as her consultant and received a salary of €1,250 (about US$1,400) per month, while also serving as a minister.
Le Canard Enchaine later reported that Ferrand hired his son, Emile, as a parliamentary assistant between January and April 2014 for a salary of €8,704. (€6,800, according to Le Figaro).
The same paper broke the story about the wife of the Republican candidate Francois Fillon in January, which damaged his presidential campaign. The scandal, dubbed 'Penelopegate', centered on claims Penelope Fillon improperly received public money.
In an interview with Franceinfo, Ferrand said that his son was indeed hired on a salary of €1,266 a month when another parliamentary assistant had to step down at short notice due to health issues.
"I obviously see that today…there is a total rejection of the idea that a parliamentarian can hire someone close to him. I wouldn't do it again," Ferrand said.
He also confirmed the information revealed in Le Monde newspaper, saying however that there was "no corrupt practice or any illegality" in the Brest case.
"I won't resign, because I'm not questioned by justice [officials] and I want to devote myself to my ministry," Ferrand tweeted on Tuesday.
Before the latest developments, the Brest prosecutor had initially dropped the case into Ferrand, according to a statement from May 26. At the time, Mathais said that he found no legal grounds for opening an investigation after the Le Canard Enchaine report.
According to French law, a preliminary probe does not imply guilt. After such a preliminary inquiry, the prosecutors decide if there are grounds for a full-scale investigation or not.
READ MORE: Le Pen summoned over allegations of misuse of EU funds
The French presidential race also saw Marine Le Pen become caught up in a corruption scandal. Le Pen was summoned by judges over alleged misuse of EU funds in March this year. The allegations claimed that members of Le Pen's staff were fictitiously employed at the European Parliament as assistants.
You can share this story on social media: