S. Korean president 'shocked' to find 4 unaccounted US THAAD launchers in his country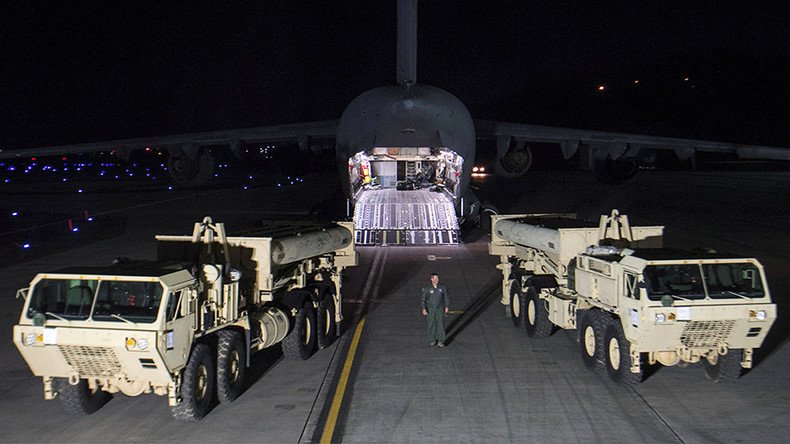 The newly-elected president of South Korea ordered a probe into why the country's defense ministry failed to report to him the import of four more rocket launchers for the US anti-missile system in addition to the two confirmed publicly.
"President Moon said it was very shocking," to hear the four additional launchers had been installed without being reported to the new government or to the public, presidential spokesman Yoon Young-chan told a media briefing on Tuesday.
The deployment of the US Terminal High Altitude Area Defense (THAAD) system was approved by the previous conservative government in Seoul, which fell after then-President Park Geun-hye of the Saenuri Party was impeached under the corruption charges. Moon Jae-in, a Democrat, won the May 9 election and is in the process of power transition. A promise to review the controversial THAAD deal was part of his campaign.
Moon's office announced a probe into an undisclosed entry of four THAAD launchers, which were brought into the country in addition to two units, the deployment of which was publicly announced.
"President Moon ordered to find out how the four additional rocket launchers were brought into the country, who made such a decision, why this has not been disclosed to the people and why this has not been reported to the new administration even to date," Yoon said as cited by Yonhap news agency.
"President Moon ordered his senior secretary for civil affairs and the NSO chief to find the truth behind the secret entry of the four rocket launchers," he added.
The agency notes that the existence of additional launchers was quite open. Footage of four launchers being deployed was filmed and broadcast by a local TV station in April. A fully-equipped THAAD battery is supposed to have at least six launchers equipped with eight interceptor missiles each along with a radar station and two operations centers.
The US has denied misleading its allies.
"We continue to work very closely with the Republic of Korea government and we have been very transparent in all of our actions throughout this process," Pentagon spokesman Jeff Davis
Moon has been critical of many policies of his predecessor, including the decision to deploy the THAAD system. He said Park failed to get a parliamentary approval for the move, but is yet to bring the issue to lawmakers himself.
The deployment was touted in Seoul as a measure to protect the country from a possible attack by North Korea. But the strongest opposition to the move came from China, which sees THAAD as a threat to its national security, both due to the range of its radar and because of its potential to pave way for further deployments in the region. Japan was reported as considering hosting two THAAD batteries to complement land-based Patriot missiles and Aegis systems of its destroyers.
READ MORE: Japan may host Tomahawk-compatible launchers to counter N. Korea missile threat – media
After the decision was taken in Seoul, Beijing retaliated with undeclared economic sanctions, targeting South Korean businesses depending on China. South Korean tourism, retailing and media industries were reportedly hit, with Beijing denying any involvement.
After Moon's election, Beijing is apparently rolling back the punitive action, according to Reuters. The broadcast of a Korean-Chinese drama 'My Goddess, My Mom', which were frozen in China, may soon return to air, said JS Pictures, the agency representing series' star, South Korean actress Lee Da-hae. South Korean tour agency Mode Tour told Reuters it hopes China may in June lift a ban on selling group tours to South Korea.
You can share this story on social media: