ISIS wants Philippines foothold to inflict destruction like in Iraq, Syria – military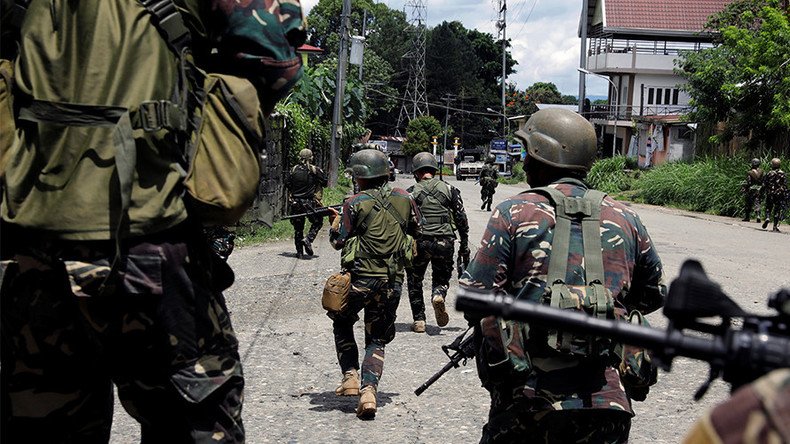 As Islamic State-linked militants besiege a city in the southern Philippines, the local military says the terrorist group wants to establish a branch in the country and "inflict the kind of violence" jihadists have used in Iraq and Syria.
"They wanted to show the world that there is an ISIS [Islamic State/IS] branch here which can inflict the kind of violence that has been seen in Syria and Iraq," Gen. Eduardo Ano, military chief of staff, told AP.
Since May 23, armed forces have been clashing with Maute jihadists linked to IS, who have taken over large parts of the city of Marawi on the island of Mindanao.
The fighting on Mindanao erupted after a failed raid on the hideout of a leading Abu Sayyaf militant, Isnilon Hapilon, who pledged allegiance to IS almost three years ago.
According to Ano, Philippine troops now control some 70 percent of Marawi. On Tuesday, the authorities called on the Maute militants to surrender.
"We are giving those [militants] inside an opportunity to surrender. There is still a chance to lay down your arms," military spokesman Brigadier-General Restituto Padilla said on DZBB radio, as cited by AFP.
The serviceman explained that the surrender call was issued "to lessen the damage on the ground, definitely so the civilians will be less affected."
The majority of Marawi's 200,000 residents have fled the conflict area, but some 2,000 remain trapped in areas besieged by the militants, Zia Alonto Adiong, spokesman for the provincial crisis management committee, said on Sunday, as cited by AFP.
"They want to leave. They are afraid for their safety," he said.
READ MORE: Gunmen take priest, churchgoers hostage in Philippines, vow to kill captives
At least 100 people have been killed in the recent conflict in Marawi, with the number including at least 27 civilians and 61 terrorists.
On Monday, Philippine leader Rodrigo Duterte asked Muslim separatists and Maoists to join the fight against Maute fighters. He promised to treat them as soldiers and offered them the "same privileges," which would include the construction of homes for some militants.
The Maute group has been especially active across the Lanao del Sur province, where the embattled city of Marawi is located.
In the meantime, the Philippine Red Cross (PRC) is appealing for donations to help Marawi families, saying that some 96 neighborhoods have been affected by clashes.
"Filipinos always rise to help selflessly. Our brothers and sisters in Mindanao need you to help extend their lives while facing ongoing clashes. Let us help the most vulnerable by making a difference," said PRC Chairman Richard Gordon.


You can share this story on social media: