Japan wants US parachute drills grounded amid Okinawa anger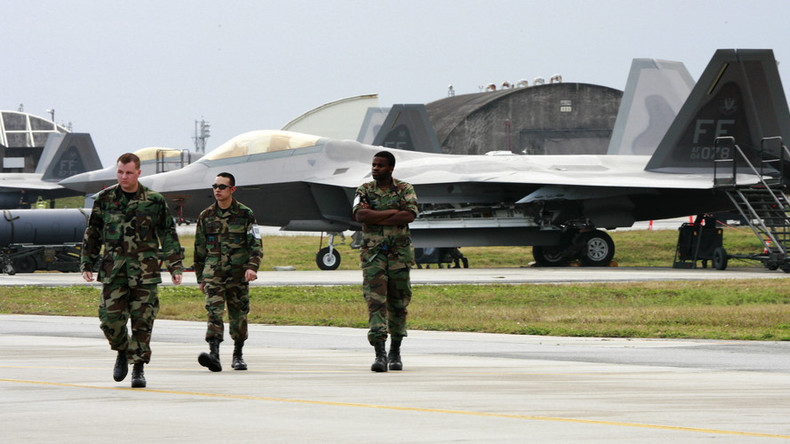 Japan is opposed to a two-day parachuting drill that the US plans to conduct near the Kadena Air Base in Okinawa. Local residents have protested such drills in the past, and this would be the third in two months.
Japanese Defense Minister Tomomi Inada said the US military failed to notify the Japanese authorities seven days ahead of the exercise, as they are supposed to. In fact, Japan learned of the Americans' plans from a Notice to Airmen (NOTAM) filed with the aviation authorities, which is meant to keep civilian aircraft out of airspace where US military planes are flying during the exercise, NHK reported.
"We asked [the Americans] not to conduct the training and to delete the NOTAM. So far we have not received a response from the US site," Inada told reporters on Tuesday after a cabinet meeting.
The parachuting exercises, which are planned for Wednesday and Thursday, would be conducted off the coast of the city of Uruma. Similar drills were conducted off the Kadena Airbase on the night of May 10 and on April 24.
The previous two drills sparked protest among Okinawans, who have not seen such exercises since 2011. After the second training, Deputy Okinawa Governor Moritake Tomikawa filed a protest with Japan's Defense Ministry, expressing outrage and saying that such exercises cannot become routine.
Defense Minister Inada called the US move "regrettable," saying the US should observe a 1996 bilateral agreement under which parachuting exercises should be conducted on the remote island of Iejima, off Okinawa's main island, with the Kadena base used only as an exception.
"The United States did not offer sufficient explanation on why the exercise conducted (Wednesday) amounted to an exceptional case," Inada said at a regular news conference. "It is extremely deplorable that it took place at Kadena Air Base without Japan and the United States able to share the same perception in advance," she stressed.
The Kadena Airbase is one of several US military installations on Okinawa, a southern Japanese island that hosts some 70 percent of the US troops in Japan and is home to some 20,000 US service members, contractors, and their families.
During a parachuting drill in 1965, a trailer airdropped into a local village inadvertently landed on a schoolgirl, killing her.
The protest over the latest planned drill comes a day after Okinawa police arrested a US airman assigned to the Kadena base following a drunk hit-and-run. Staff Sergeant Miguel Angel Garza allegedly hit a car on Monday and fled the scene. The female driver of the second vehicle sustained minor injuries, Japanese authorities said.
You can share this story on social media: