Brazil jail break: 82 inmates escape prison via underground tunnel (VIDEO)
Published time: 26 May, 2017 02:59
Edited time: 26 May, 2017 16:11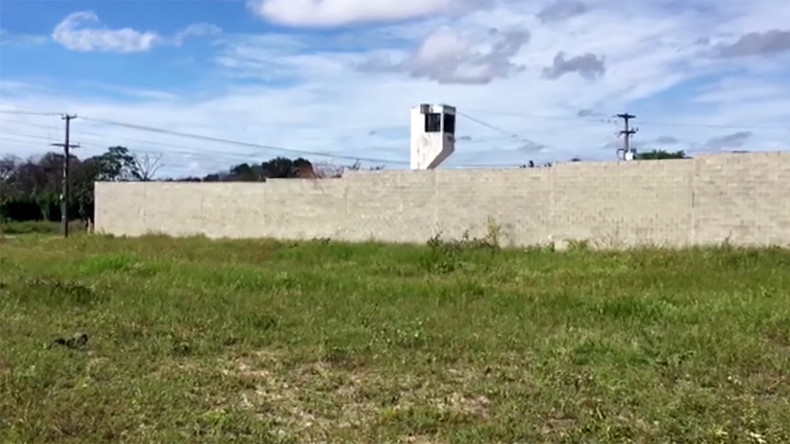 Almost a hundred inmates have managed to escape from a jail in the Brazilian state of Rio Grande do Norte by digging a tunnel underneath the compound's outer wall. Only a handful of them were recaptured following one of the largest prison breaks in Brazil's history.
On Thursday, a total of 91 prisoners got out of the Parnamirim State Penitentiary via a 30-meter-long underground tunnel, Secretary of Justice and Citizenship for the state of Rio Grande do Norte announced.
As a diversion for their escape, the inmates staged a fight inside the prison to distract the guards. While no one was injured in the brawl, dozens of the convicts used it as a diversion.
The fugitives ditched their blue shorts and white top prison uniforms near the exit of the tunnel outside the compound where they changed and fled with the help of at least two cars and a motorbike.
Authorities have managed to recapture nine fugitives so far. The prison is now busy compiling a full list of the 82 inmates still on the run.
This is the second escape this year from the same penitentiary, which according to the State Department of Justice and Citizenship, has become the greatest escape in the history of the state. In January, 14 prisoners managed to escape from the facility, also via an underground tunnel.
The Parnamirim State Penitentiary has capacity for 436 detainees but housed 589 prisoners before the escape. A wide-scale manhunt is underway parallel to an investigation to determine details of the prison break.