NATO forced to change rules after Turkey's spat with Austria threatens to paralyze alliance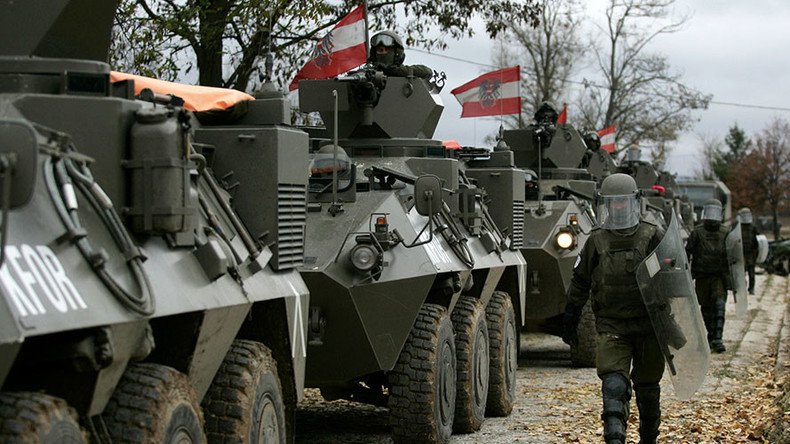 The 28 NATO member states have reportedly agreed that military cooperation with non-members can be approved on a country-by-country basis after alliance member Turkey put a veto on Austria's participation and froze out 40 other partner states in the process.
Ankara has had a stormy relationship with Vienna which has repeatedly criticized Turkey's human rights record and political reforms. Austria has even argued that stalled talks for Turkey's accession into the EU should officially be abandoned.
In response, Turkey has vetoed cooperation with Austria, which is a NATO partner state, but officially neutral and not a NATO member, despite participating in joint operations as borne out by its current deployment of 400 troops in Kosovo.
The veto also affected partnerships with other associate states, such as Japan and Sweden, which are happy to stay outside the alliance, and Ukraine and Georgia, which one day hope to join it.
The situation has been ongoing since November last year but came to a head this week, days before an alliance meeting in Brussels.
"I strongly condemn Turkey's course of action in NATO. It is irresponsible behaviour against Austria and strengthens my position that Turkey is very far from being part of the EU," said Austria's Defense Minister Hans Peter Doskozil in a statement to BBC.
"Turkey has been taking appropriate measures regarding Austria's participation in NATO activities on the grounds that Austria brings its anti-Turkey attitude to the EU platforms," a Turkish diplomat told Hurriyet.
But according to reports, the 28 permanent members have now altered the rules and cooperation "will be planned on an individual basis, rather than collectively," an unnamed NATO official told AFP.
"This will substantially reduce the risk of blockages to cooperation with partners across the board," said the official.
While this allows for cooperation between NATO and other countries to resume, Turkey still has the veto on Austria.
"Turkey is endangering the security interests of Europe. The blockade has a long-term impact on the peace missions in the Western Balkans," said Doskozil.
But NATO insists that despite the procedural impasse, cooperation with Vienna will continue for the moment, as Austria is a "long-standing NATO partner and we greatly appreciate its valuable contributions to our shared security."
"We hope the bilateral issues between Austria and Turkey will be solved as quickly as possible," the official told AFP.
Turkey joined NATO in 1952, and its EU entry talks have been ongoing since 2005.
It is not the first time Turkey has disagreed with the alliance partners and members, especially in recent years.
Ankara's ongoing diplomatic row with Germany, which recently granted asylum to some Turkish nationals suspected of links to last year's coup attempt, resulted in Berlin announcing this month that it is seeking a potential replacement to Turkey's Incirlik airbase.
Meanwhile, Washington's close cooperation with Kurdish forces in Syria and the sheltering of fugitive Turkish cleric Fethullah Gulen, whom Ankara accuses of masterminding the coup attempt, has been souring its relations with the US.
You can share this story on social media: