Japan scrambles warplanes over Chinese drone flight near disputed islets
Published time: 19 May, 2017 15:53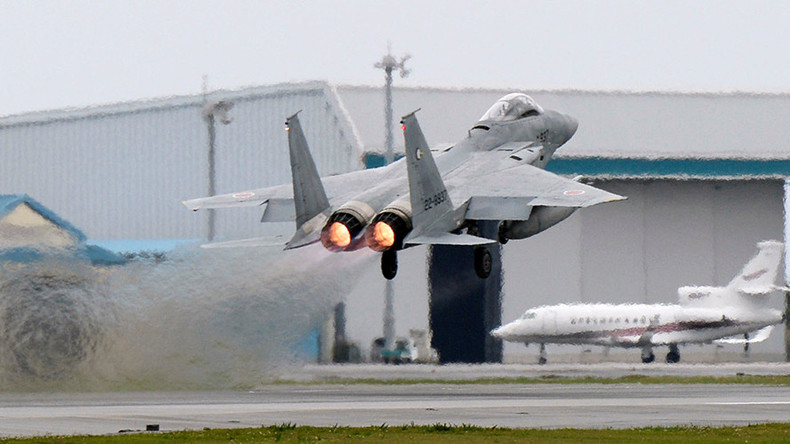 Japanese warplanes were deployed to disputed islets in the East China Sea, as Chinese Coast Guard vessels entered the troubled waters and allegedly launched a military drone. Beijing claimed instead the drone belonged to "relevant media."
Japan scrambled two F-15 fighter jets, one E-2C early warning aircraft, and an AWACS surveillance plane on Thursday as China Coast Guard vessel 2308 entered the waters surrounding the disputed East China Sea islets and deployed a "object that looks like a drone,"according to a Japanese Defense Ministry statement.
The Senkaku islets are controlled by Japan, but also claimed by China and Taiwan – which Beijing considers part of its territory.
While it was the 13th "intrusion" of the Chinese ships this year, it was the very first drone flight witnessed by Japanese officials, Reuters reported, citing the Japanese Coast Guard.
"This is escalating the situation and absolutely unacceptable," Japanese Defense Minister Tomomi Inada said, according to Reuters. "We regard this as a serious infringement of Japan's sovereignty."
The director-general of the Japanese Foreign Ministry's Asian and Oceanian Affairs Bureau, Kenji Kanasugi, made a stern protest over the incident to the Chinese Embassy in Tokyo by phone, according to Reuters, citing ministry officials. The Chinese responded to the protest by reiterating their claims on the islets.
China's State Oceanic Administration confirmed that Coast Guard vessels 2305, 2308, 2166, 33115 patrolled the area, without mentioning any drones.
The patrol was a routine matter, according to Chinese Foreign Ministry spokeswoman Hua Chunying, as China claims the islets and surrounding waters as its own.
The spokeswoman confirmed the drone flight, claiming that it was used by some sort of "relevant media" for aerial photography.
READ MORE: China tests new missile near Korean peninsula
"This is not a military action as has been hyped up by some media," Hua said. "As for the so-called representations or protest by the Japanese side, of course we can't accept it."
The incident occurred a day after two Chinese Sukhoi Su-30 fighter jets intercepted a US Air Force WC-135 Constant Phoenix aircraft while it was flying in international airspace above the East China Sea. The WC-135 specializes in detecting radioactive fallout after a nuclear detonation.
US officials called the incident, in which the surveillance plane was buzzed within 150 feet, "unprofessional," while China said that US surveillance near the border might lead to "misunderstandings or misjudgments or cause unexpected incidents at sea or in the air."