ISIS destroys ancient artefacts as campaign against Syrian heritage sites continues (VIDEO)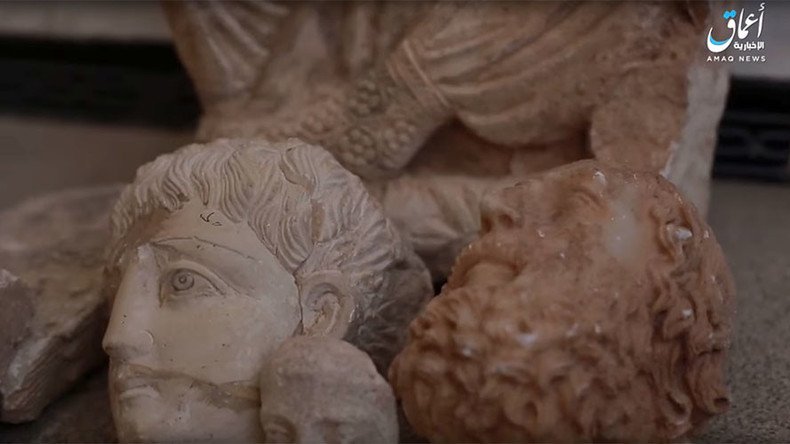 An account linked to Islamic State (IS, formerly ISIS/ISIL) has released footage of jihadists destroying what they claim are ancient artefacts because they are symbols of "satan worship".
Reports from Al-Masdar news claim the artefacts were found west of Abu Kamal city in the Deir ez-Zor province of Syria, close to the Iraqi border.
READ MORE: Russian MoD releases drone footage of Roman theater in Palmyra blown up by ISIS (VIDEO)
"Law enforcers have taken a decision to destroy the idols which were created by Satan and worshipped instead of Allah," the jihadists say in a video published by Amaq News Agency, the group's media arm.
IS has waged a high profile war on the cultural heritage of Syria and Iraq, regularly destroying archaeological sites with bulldozers and explosives.
Perhaps the group's most flagrant action was when militants used explosives to completely flatten the 1,900-year-old Temple of Baalshamin in Palmyra.
As well as damage caused by IS, UNESCO says archaeological sites in the Deir ez-Zor region have also suffered severely from illicit excavations and looting with local and foreign dealers "reaping the rewards".
In 2015 the UN organization reported that groups, many of whom were armed, were "systematically carrying out illegal excavations" of important historical sites in order to steal antiquities.
You can share this story on social media: