Trump-Lavrov meeting focused on Syria safe zones & need to expand them nationwide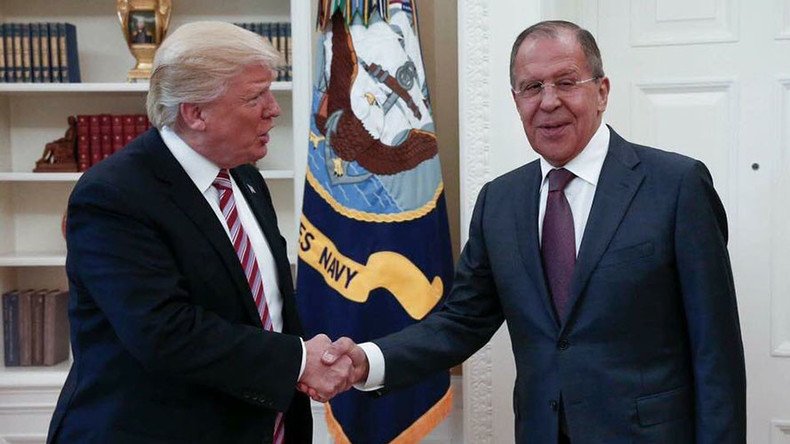 The issue of establishing and expanding Syria's de-escalation zones dominated last week's Lavrov-Trump discussions in the Oval office, the Russian FM has revealed, emphasizing that these safe zones should eventually spread across the entire country.
On Wednesday, US President Donald Trump hosted Russian Foreign Minister Sergey Lavrov at the White House where they discussed a wide range of issues with Syria topping the agenda.
Noting that the core idea of the Russian initiative to establish safe zones in Syria was initially voiced by the US president, Lavrov said it is Russia's understanding that the de-escalation strategy will be rolled out across Syria.
"At the center of our conversation was the initiative which President Trump voiced at an early stage of his presidency, namely the creation of security zones or zones of de-escalation, in which there will be no fighting, except against the terrorists, who need to be expelled from there," Lavrov told Russia's Channel 1 commenting on his visit to the Oval Office earlier last week.
Lavrov emphasized that when the safe-zone initiative was approved in Astana, Russia and other delegations endorsed the deal already "bearing in mind that this practice will be extended to the rest of the territory."
The de-escalation or safe zones which came into effect on May 5 were set up as a temporary measure for six months with the possibility of extending them for another half a year. Now, safe zones are established in Syria's Idlib Governorate and parts of neighboring Latakia, Aleppo and Hama provinces, in the northern part of Homs province, in the Damascus neighborhood of Eastern Ghouta, and in parts of the southern Deraa and Quneitra provinces bordering Jordan.
The initiative was agreed by the guarantor states – Russia, Iran, and Turkey – during negotiations in the Kazakh capital where all parties expressed hope that the initiative will lead the way to end Syria's protracted conflict.
Lavrov said Washington and Moscow have common objectives in Syria and that all influential parties must now work together to end the 6-year-long civil war.
Russia's Foreign Minister said that Moscow and Washington, together with other major players in the Middle East, should try "to influence the various Syrian parties, by encouraging them to take good faith in the implementation of the Security Council resolutions, which requires negotiations, the drafting of a new constitution, and preparation of elections... and on these issues, we have an understanding with the Americans."
Lavrov pointed out though, that it is difficult to find common ground and implement measures and agreements due to a large number of "players" involved.
To reach peace, Lavrov said, the new US administration should rectify its mistakes and help separate the terrorists from what Washington calls the "moderate" armed opposition.
"Syria has many players: first of all, the Syrian parties themselves, Islamic State, Jabhat al Nusra, [and] those who cooperate with them. Therefore, it is particularly important to separate [rebel groups] that we agreed with the administration of Barack Obama, but which it failed to fulfill."
Lavrov said that Trump seems to want mutually respectful relations with Russia based on shared interests.
"President Trump never — neither during the election campaign nor after he has became president — said that he wanted to have bad relations with Russia. On the contrary, he said that he wanted to have normal respectful relations with all countries, including Russia, [relations] that would be based on properly realized common interests…. [Among] such common interests, of course, there is primarily the fight against terrorism," Lavrov said.
"In fact, the coherence of President Trump's [words], in my opinion, was never broken," the Russian Foreign Minister said.
Lavrov's American counterpart, Rex Tillerson, offered his own assessment of US-Russian relations on Sunday, saying it's "not healthy" for bilateral relations to remain at their current "low level."
"I think it's largely viewed that it is not healthy for the world," the US Secretary of State told NBC. "It's certainly not healthy for us, for the American people, our national security interest and otherwise, for this relationship to remain at this low level. Whether we can improve it or not remains to be seen."
You can share this story on social media: