At least 3 killed when train derails & hits house in Greece (DRONE VIDEO)
At least three people were killed and 10 injured in an intercity train crash outside Thessaloniki when several passenger cars derailed and the engine hit a nearby house, police said, as cited by Reuters.
According to the train operator, TRAINOSE the incident happened on the Athens - Thessaloniki line at 21:45pm when a train with around 70 passengers derailed just outside Adendro station.
"Death came calling," Yorgos Mylonas, a local resident told Athens News Agency, as cited by Reuters.
"I heard a strange noise and then I saw the train approaching and ramming into my neighbor's house."
It is not yet clear what led to the accident. The evacuation efforts are ongoing but the local media reports that at least four people have died, and scores others are injured, including the driver who is in a serious condition.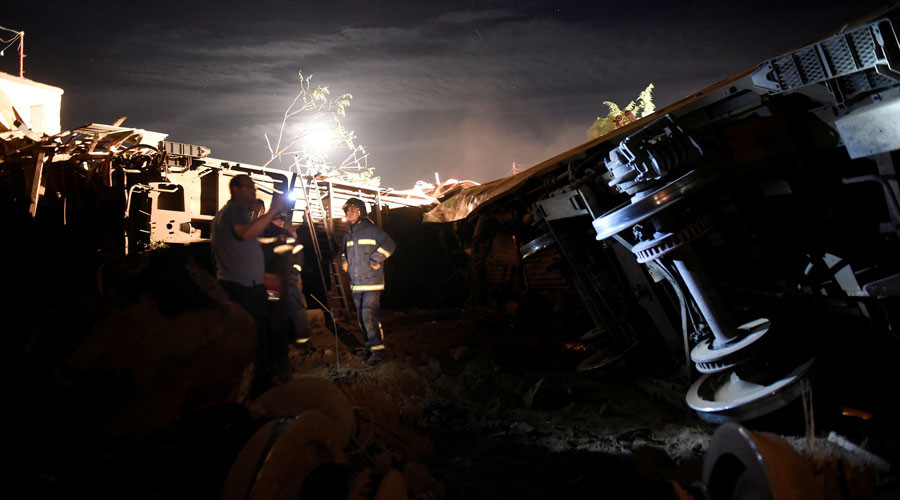 Earlier, Greek media reported on a statement from TRAINOSE, which said at least four people had died.
However, it later deleted the information from its website, Reuters said.
Fire department, ambulance units and police are at the scene. Those injured are being rushed to the hospitals of Thessaloniki.
Local media report at least five cars have derailed with the train engine car piercing through a building located close to the rail lines.
At least 45 firemen and 21 emergency vehicles were engaged in the evacuation efforts.