'There is no potential for any conflict in the Arctic' – Lavrov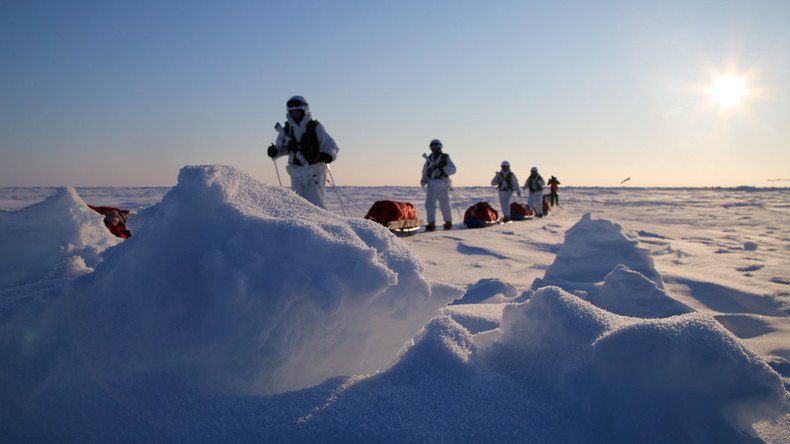 Russia is working to develop the Arctic as a region of peace and stability, Russian Foreign Minister Sergey Lavrov has told the Arctic Council in Alaska, but expressed regret at the lack of security cooperation between member states over the last few years.
"Russia is doing and will do a lot to make sure the Arctic develops as a territory of peace, stability and cooperation," Lavrov said speaking at the council's meeting in Fairbanks, Alaska. "There is no potential for any conflict here."
"International law makes it possible to reliably ensure the national interests of all Arctic states in our common region," he emphasized.
Lavrov said the expansion of economic ties in the Arctic is among Russia's priorities.
"As the largest Arctic power, we continue to contribute to enhancing the region's stability [in regards to] to global challenges, implementing the agenda approved by the UN General Assembly for the period until 2030."
The Arctic Council, formed in 1996 to co-ordinate international efforts for sustainable development in the Arctic territories, does not typically discuss military or security issues. However, Lavrov lamented the suspension of high-level military talks between defence officials of the Arctic states.
"Between our countries until 2013 there was a practice of annual meetings of the chiefs of the armed forces of the Arctic states. These meetings were very useful in terms of building confidence and mutual understanding, but unfortunately, for the fourth year now they have not taken place, and not at the initiative of our country," he said.
Among the delegates present were representatives of Sweden, Finland, Russia, Iceland, Denmark, Norway, Canada and the United States – with State Secretary Rex Tillerson transferring the two-year rotating Arctic Council chairmanship to the Finnish FM Timo Soini.
Tillerson said the Council has proven to be an indispensable forum in which the Arctic states can pursue cooperation, but added: "We are appreciative that each of you has an important point of view… (but) We are going to make the right decision for the United States."
Various indigenous organizations, including the Aleut International Association, Arctic Athabaskan Council, Gwich'In Council International, Inuit Circumpolar Council, Saami Council and the Russian Association of Indigenous Peoples of the North (RAIPON), represented by Vice President Vladimir Klimov, were also present at the meeting.
"I promise to take measures that will make it more comfortable for representatives of the indigenous peoples of Russia to participate in the work of the Arctic Council," Lavrov said, noting that all native peoples should have a more active role in the Arctic Council.
READ MORE: Putin says 'welcome' to US business in Russia, offers to work in Arctic jointly
The council adopted an intergovernmental document noting the need for global action to reduce climate pollutants and strengthening international scientific cooperation. This, according to Lavrov, has the potential to boost mutually beneficial economic ties.
You can share this story on social media: