Germany won't send more troops to Afghanistan – Merkel
Published time: 11 May, 2017 13:27
Edited time: 12 May, 2017 09:29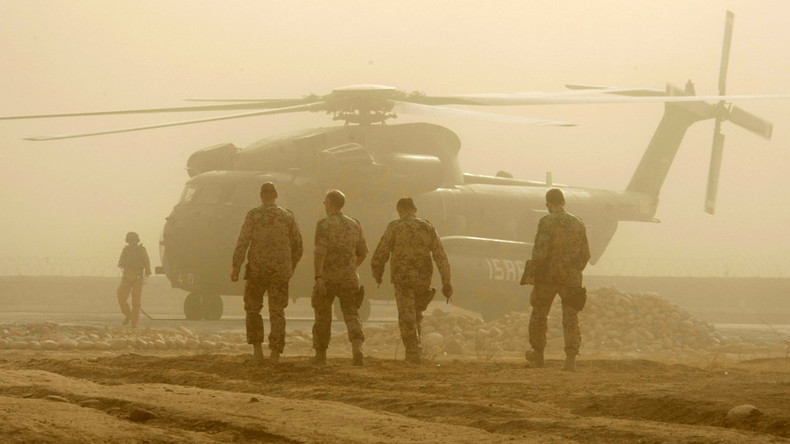 German Chancellor Angela Merkel says Germany will continue to lead NATO's military training mission in northern Afghanistan but has no plans to boost its presence there or to expand its role in the global fight against Islamic State (IS, formerly ISIS/ISIL).
Merkel said that while she would wait to see the outcome of NATO's assessment of a request from the alliance's military authorities to send more troops to Afghanistan, one thing is certain: Berlin is not ready to take on more responsibilities there.
"I don't think we're first in line to expand our capacities there. It's more important to ensure that… stability is guaranteed in the north," Merkel said, speaking at a joint news conference with NATO Secretary General Jens Stoltenberg on Thursday, as cited by Reuters.
Stoltenberg, who said that a decision on NATO's presence in Afghanistan was due "within weeks," stated that the alliance was not mulling over a return to combat missions in Afghanistan, but would focus on "train, assist and advise" missions.
The NATO secretary general highlighted the leading role Germany played in Afghanistan's north, noting that "If there is any increase, which is not yet decided, then we will go out and ask all allies and partners."
Merkel emphasized that she had "also made very clear" to Stoltenberg that Germany would not enhance its role in the global fight against Islamic State even if NATO agrees to US requests for it to take on a formal role in the coalition.
"I want to state very clearly, that even if such a decision is made, it will not mean that any military activity that Germany currently carries out, for instance, AWACS surveillance, will be expanded or something like that," she told reporters.
Stoltenberg also mentioned the conflict between Berlin and Washington over defense spending, noting that back in 2014, NATO members had not agreed to spend two percent of their GDP on defense "tomorrow," but to first and foremost stop cutting military spending and gradually move toward the two percent target.
"What we promised was to stop the cuts, gradually increase and then move towards 2 percent," Stoltenberg said. "And, actually, Germany and many of the European allies have started to do exactly that," he added.
NATO members are encouraged to spend at least two percent of their GDP on defense, but only a few states in the 28-member bloc are able to meet the requirement. At the 2014 Wales summit, some countries argued that it is unrealistic to reach the two-percent target by 2024, as expenditure is largely based on each state's economic might.
In March, following a meeting with German Chancellor Merkel, US President Donald Trump lambasted Germany for not spending more on its own defense.
The "United States must be paid more for the powerful, and very expensive, defense it provides to Germany," he tweeted.
...vast sums of money to NATO & the United States must be paid more for the powerful, and very expensive, defense it provides to Germany!

— Donald J. Trump (@realDonaldTrump) 18 марта 2017 г.
German Defense Minister Ursula von der Leyen sarcastically replied that Germany does not owe the US and NATO "vast sums of money" as the alliance has no "debt account."
"There is no debt account at NATO," she noted in a statement, as cited by Spiegel.