'Necessary deterrence means'? Lithuania awards $1.45mn contract to erect Russia border wall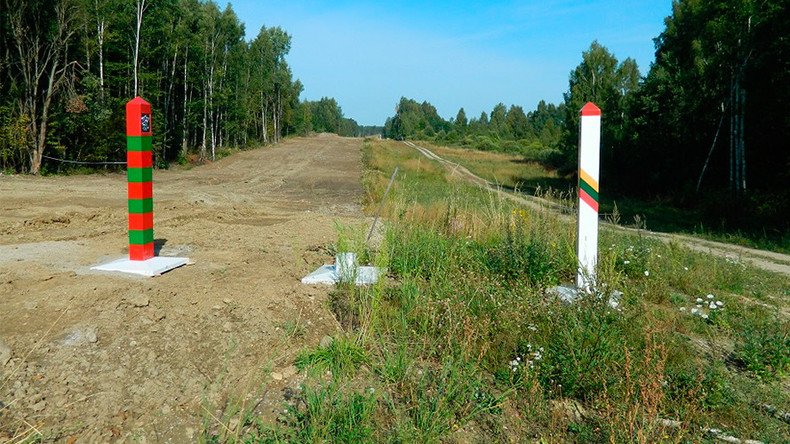 Lithuania has announced that it will award some €1.34 million ($1.45mn) to a private contractor to build a 2-meter high metal fence alongside the 45 km stretch of land bordering Russia's Kaliningrad region.
Lithuania's State Border Guard Service (VSAT) chose the proposal presented by the Gintreja company after receiving 27 construction submissions.
"The funds required for the construction will be allocated from the state budget", VSAT said, adding that the fence will go up before the end of the year.
The two-meter wire fence with additional electronic controls will "appear at the site of a convergence of borders of Lithuania, Poland, and Russia near Vistytis Lake and will go through the territory of Shakaisky and Vilkavishki regions up to the Neman," the Border Protection Service said.
The Lithuanian border agency insists that the fence will offer better external border protection for the entire EU. At present, the Russia-Lithuania border is only marked with special signs and a 13-meter-wide separation line.
The €1.335 million fence barrier project, according to VSAT, will complement cameras and other security systems that were earlier installed along the entire length of Lithuania's 109-kilometer water frontier with Russia at Neman River.
News about the fence on the border with Russia comes just months after the arrival of US tanks and military equipment in Eastern Europe for NATO's rotational deployment on Russia's borders. The move to expand NATO's presence in Eastern Europe – the highest levels since the Cold War – was agreed last year under the former Obama administration which had accused Moscow of aggressive behavior.
Russia has repeatedly called NATO's moves unconstructive while stressing it undermines security in Europe. In response, Moscow has been conducting large-scale military drills on home soil and stationed its most advanced weaponry and armaments on its western borders, including the exclave region of Kaliningrad, which lies between Poland and Lithuania.
On Wednesday while touring NATO troops in Lithuania, the US Secretary of Defense, John Mattis announced that Washington is prepared to deploy additional air defense systems in the Baltic region.
"We will deploy whatever capability is necessary here," Mattis declared at a new conference with Lithuanian President Dalia Grybauskaite when asked about regional air defenses.
Earlier, two US defense officials told AFP that the US was considering temporarily sending a Patriot missile battery to the Baltic region for NATO air defense exercises this summer.
The Wall Street Journal also reported on the potential deployment, saying, that according to US officials, there is no intent "to place a Patriot unit in the region permanently."
However, Mattis refused to speculate on whether Vilnius had requested the Patriot missile system deployment: "We will make those decisions in consultation with the Lithuanian government," he said.
Speaking alongside the US Secretary of Defence, Grybauskaite said, as quoted by Reuters, that her country "needs all necessary means for defense and for deterrence."
You can share this story on social media: