Mini mind maps: Unique scans to show babies' brains in womb as part of new project (PHOTOS)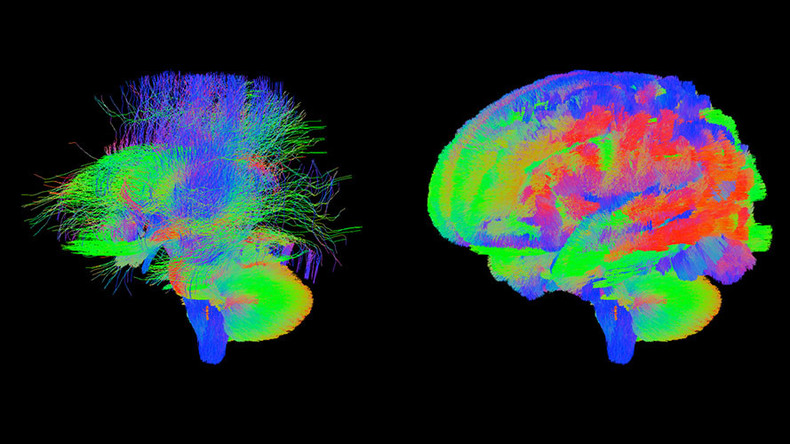 UK scientists have released dozens of unique high-resolution images of newborn babies' brains to help scientists from across the world unravel how complex conditions such as autism, cerebral palsy and attention deficit disorders appear.
The first images come from 40 babies scanned in their sleep several days after birth, and were captured using Magnetic Resonance Imaging (MRI) scanners. Scientists had to develop new, state-of-the-art techniques to take the images of the brains of foetuses and newborns, overcoming difficulties caused by babies' constant movement and tiny size.
"The challenge is that you are imaging one person inside another person and both of them move," Jo Hajnal, professor of imaging science at King's College London, who developed the new MRI technology for the project, told the Guardian.
More images are to be released, including those from the womb. To receive snapshots of babies' brains in the womb, researchers scanned the pregnant mother, taking pictures every second.
We would like to announce our first open access data release. We hope our images and methods will expand research in brain development pic.twitter.com/JeucXPuju0

— DevelopingConnectome (@DevelopingHCP) 10 мая 2017 г.
"That is fast enough to freeze both the maternal and the foetal motion," Hajnal said.
Researchers led by Professor Daniel Rueckert at Imperial College London have also created new computer programs to analyze the scans.
"We have been developing novel approaches that help researchers by automatically analyzing the rich and comprehensive MR images," he said in a statement.
The groundbreaking scans are the brainchild of the Developing Human Connectome Project (dHCP), a €15 million ($16 million) undertaking led by King's College London, Imperial College London and Oxford University designed to shed new light on how the brain develops, starting from the wiring and function of the brain during pregnancy and effectively how this changes after birth.
The biggest challenge for dHCP researchers is to create the world's first dynamic map of the human brain from a gestational age of 20 to 44 weeks, linking together imaging, clinical, behavioral, and genetic information.
"The Developing Human Connectome Project is a major advance in understanding human brain development – it will provide the first map of how the brain's connections develop, and how this goes wrong in disease,"said lead principal investigator Professor David Edwards, who works at King's College London and is a consultant neonatologist at Evelina London Children's Hospital.