Merkel's former defense minister joins arms corp with links to Saudis, USAF & Erdogan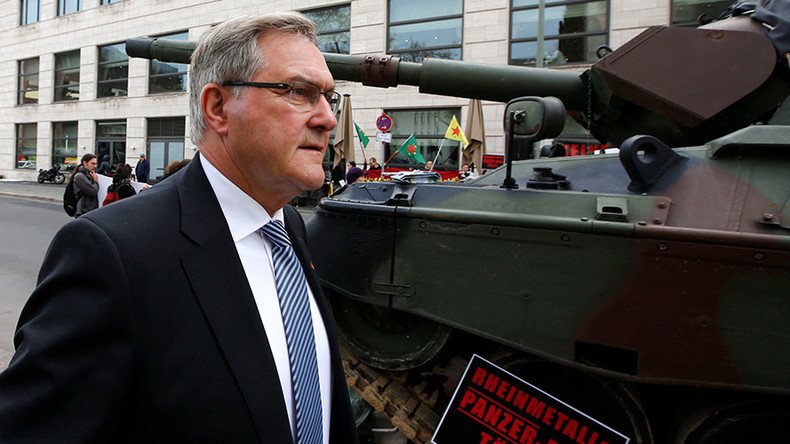 The former German defense minister, Franz Josef Jung, has joined the board of the military hardware supplier Rheinmetall, linked to the sale of weapons used by the Saudi-led coalition in Yemen through nebulous subsidiaries.
Jung, a member of Angela Merkel's Christian Democratic Union (CDC) party, will sit on the company's supervisory board after being elected by company shareholders at its AGM in Berlin on Tuesday.
Rheinmetall has been accused in the past of using subsidiary companies to bypass German export controls. Its South African subsidiary, Rheinmetall Denel Munition has built ammunition factories in Saudi Arabia and the UAE.
Jung served as head of the Ministry of Defense under Angela Merkel's Christian Democratic Union (CDU) government from 2005-2009. He was forced to resign as minister of defense in 2009 after it was revealed he withheld information about civilian casualties in a NATO strike in Afghanistan.
A present member of the German parliament, Jung announced last year he would not be eligible for the 2017 Bundestag election.
An April 2015 investigation by Reported.ly found bombs manufactured by Rheinmetall's Italian subsidiary were used by the Saudi-led coalition in Yemen. Germany announced it would stop the sale of weapons to Saudi Arabia in January that year due to "instability in the region."
A number of people voiced their concerns over the company's role in Saudi Arabia's attacks on Yemen at the meeting.
The Rheinmetall Group is made up of both an automotive and a defense arm. Rheinmetall's so-called defense sales grew by 16 percent to €612 million in the first quarter of 2017.
In March, Rheinmetall won a $6.5 million contract to supply the US Air Force with ammunition for its F-35s.
Protesters, complete with a military tank, gathered outside the Rheinmetall's AGM on Tuesday to demonstrate against its reported plans to build a tank factory in Turkey in partnership with Erdogan's government.
"The problem is that Rheinmetall is following a very skillful strategy," Urgeworld organizer Barbara Happe said.
"These aren't exports, but joint ventures, which means they want to develop new ammunition and new kinds of tanks with local partners, so that they don't need approval from the German government," said Happe.
You can share this story on social media: