French police clear up to 1,600 migrants from camp in Paris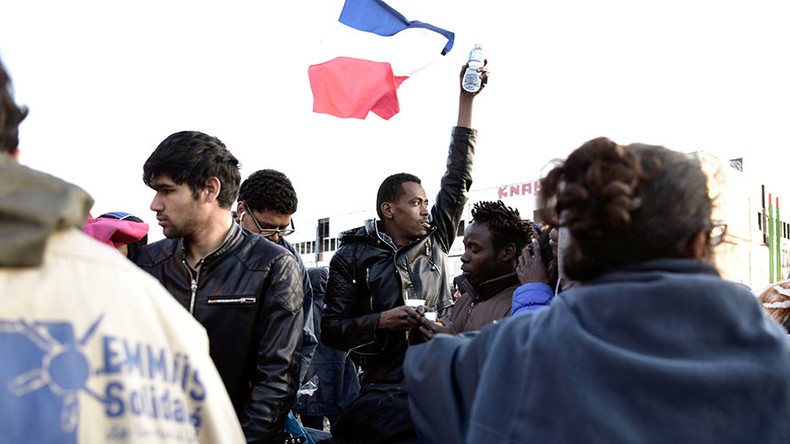 Some 1,600 migrants have been evacuated from a refugee camp on the outskirts of Paris near Porte de la Chapelle, according to city authorities. Around 350 police officers participated in clearing the camp.
The refugees are mainly from Africa and Afghanistan, the Paris prefecture said, as cited by AFP.
Most of the migrants are men, but there are about 75 "vulnerable" individuals, including 29 women and unaccompanied 22 minors.
The evacuation began early in the morning, at about 5:30am local time, and it seems that some of the refugees were happy to leave.
"The government will take us to houses, I don't know where, but it's good," a migrant identified as Said, who has been sleeping outside for months, explained to RT. "Sure, it's over three months," he said.
At about 7am, many migrants started getting onto the buses that were to take them to housing facilities.
The operation, dubbed 'Shelter', was carried out by 350 police officers and about a hundred representatives of city authorities.
"They will all be taken care of in centers in Ile-de-France, and their administrative situation will be examined in the days to come. They will then go to CAD [reception and orientation centers]," Housing Minister Emmanuelle Cosse told AFP, who mentioned fewer people than the latest figures cited by the city authorities, which put the number at "800-1000 people."
The migrants' "illicit encampments" posed "significant risks to the safety and health of their occupants and residents," the prefectures and police of Ile-de-France said in a joint statement.
In addition, a rivalry between the Afghan and the Sudanese inhabitants of the makeshift camp seemed to be emerging, causing further tensions. One violent row in mid-April led to a few casualties.
The evacuation at Porte de la Chapelle is not the first such operation to have been carried in Paris. Last November, police cleared a camp located near Paris' Stalingrad metro station, where 3,800 migrants were living.
Earlier last year, one of the most notorious refugee camps in Europe, the 'Jungle' in France's northern city of Calais, was evacuated, and about 5,500 of its residents were sent to various housing facilities across France.