Putin says WW2 started due to disunity of world's leading countries, calls on world to unite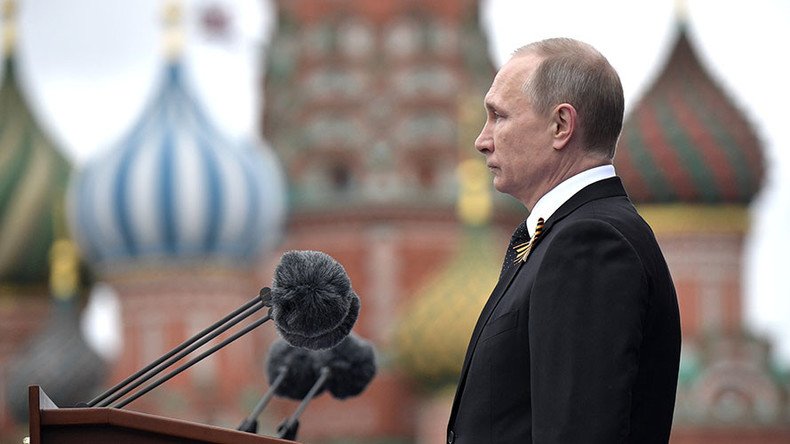 The Nazis were able to start World War II because of the disunity of the world's leading countries, Russian President Vladimir Putin stated during a Victory Day parade at Moscow's Red Square, adding that the lessons of the past should not be ignored.
"This horrific tragedy could not be prevented, first and foremost, because of the connivance of the criminal ideology of racial superiority, because of the disunity of the world's leading countries. This allowed the Nazis to appropriate themselves the right to decide the fate of other peoples, to unleash the most brutal, bloody war, to enslave almost all European countries, putting them at the service of their deadly targets," the Russian leader said, speaking during the military parade in Moscow marking the 72nd anniversary of the surrender of Nazi Germany in 1945.
According to Putin, the greatness of Victory Day is "defined by the people, by their unprecedented heroic act of saving the Fatherland, and a decisive contribution to the defeat of Nazism."
"The triumphant victory over this terrible totalitarian force will remain in human history forever as the highest point of the triumph of life and mind over death and barbarity," he stressed.
"We must remember that the victory was won at the cost of huge, irreplaceable fatalities, that the war took millions of lives," Putin concluded.
In order to effectively combat terrorism, extremism, and neo-Nazism today, the entire world community should unite, the Russian president noted.
"The lessons of the past war urge us to be vigilant, and the Russian Armed Forces are capable of repelling any potential aggression," the Russian president said, stressing that "nowadays, life itself requires raising our defense potential."
"But to effectively combat terrorism, extremism, neo-Nazism, and other threats, consolidation of the entire international community is necessary," Putin said.
"We are open for such cooperation, and Russia will always be on the side of forces for peace, with those who choose the path of equal partnership, who deny wars as contrary to the very essence of life and human nature."
The Victory Day parade has concluded on Moscow's Red Square, where some 10,000 people took part and 114 military vehicles were on display. After attending the festive event, Putin laid a wreath at the Tomb of the Unknown Soldier beside the Kremlin walls to honor the fallen soldiers of World War II. Prime Minister Dmitry Medvedev, Defense Minister Sergey Shoigu, and other top Russian officials attended the ceremony.
You can share this story on social media: