Paris police evacuate & sweep Europe's busiest train station (PHOTOS, VIDEO)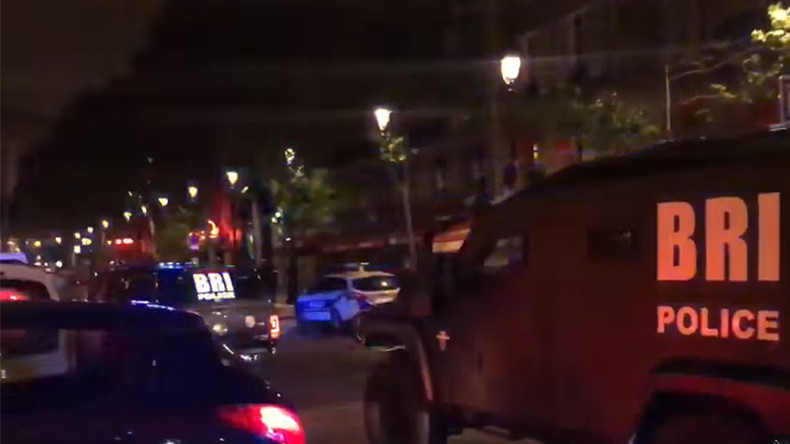 Police in the French capital have evacuated passengers from Paris' Gare du Nord train station, and temporarily sealed off the area in search for what some reports described as "dangerous" suspects.
The nature of the threat remained unclear but reports from the Gare du Nord train station indicated that the station has been evacuated and was no longer accessible after 11pm on Monday.
According to Le Parisien, armed policemen moved in to look for "three dangerous men."
While most travellers have been evacuated from the station's premises, some have reportedly been asked to stay confined to their trains, as police sweep the area.
Le Parisien cited a source as saying that police were searching for suspects who had been first reported as "dangerous" on Friday, and were also reportedly spotted in Bordeaux and Marseilles over the weekend.
On Monday evening the ticket seller and a controller working for the French train service allegedly notified the authorities that the suspects will be traveling on a TGV train that was supposed to arrive at the Gare du Nord train station 23:10.
Le Monde also reported that police were apparently looking for three suspects believed to have boarded a train from Valenciennes with 211 passengers onboard.
After a sweep that lasted over two hours, Paris police announced the "end of verifications" and a "gradual return to normal." No arrests have been made according to information gathered by BFMTV.
READ MORE: Protesters & police fight in central Paris during post-vote demonstration (PHOTOS, VIDEO)
France remains under a state of emergency following series of terrorists attacks in the recent years, and on high alert a day after Emmanuel Macron was elected president of France, defeating right-wing opponent Marine le Pen. Earlier in the day, riot police clashed with protesters as thousands of demonstrators gathered at the Place de la Republique to protest the President-elect's "capitalist" agenda as well as new labor reforms.