Lavrov to meet Tillerson in Washington to talk Syria & Ukraine on May 10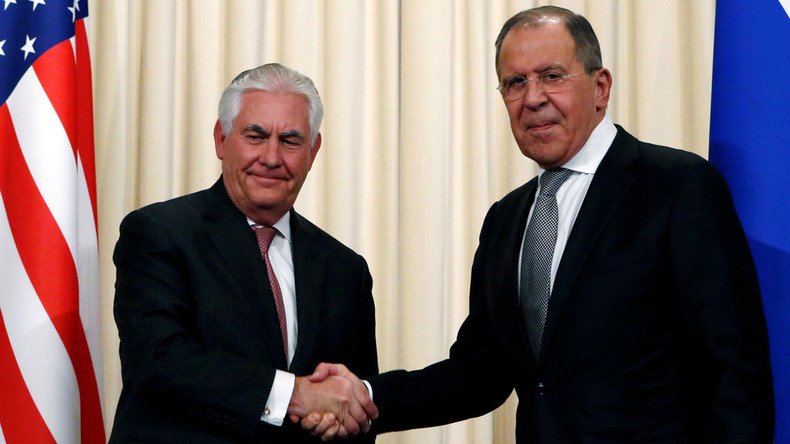 Russian Foreign Minister Sergey Lavrov will visit the US on May 9-11 for a working visit, which will include talks with US Secretary of State Rex Tillerson, Russia's Foreign Ministry says.
"The talks with the US secretary of state, during which an exchange of opinions on key international problems and pressing issues in bilateral relations is expected to take place, are scheduled in Washington on May 10. After that, Sergey Lavrov will participate in the ministerial meeting of the Arctic Council in Fairbanks (Alaska)," the Russian Foreign Ministry said in a statement.
The US State Department has confirmed the plan. Lavrov and Tillerson will meet in Washington, DC on Wednesday, May 10, to discuss Syria and Ukraine, among other issues.
The State Department announced that "On Ukraine, the sides will discuss the need to stop the violence in eastern Ukraine and resolve the conflict through the full implementation of the Minsk agreements.
"On Syria, the Secretary intends to discuss efforts to de-escalate violence, provide humanitarian assistance to the Syrian people, and set the stage for a political settlement of the conflict."
Lavrov and Tillerson last met on April 12 when the secretary of state arrived in Moscow for his first ever official visit. While there, he also held talks with Russia's President Vladimir Putin.
During the visit, it was announced that a joint Russian-US expert group was being created, aimed at attempting to mend ties between Moscow and Washington, which slipped to almost Cold War-like levels under the Obama administration.
Putin and US leader Donald Trump talked on the phone Tuesday, discussing the prospects of coordinated anti-terrorism activities in Syria and the situation around North Korea, among other issues.
The two leaders spoke about holding their first meeting somewhere around the G20 summit, which is scheduled to take place in Hamburg, Germany, on July 7 and 8.
You can share this story on social media: